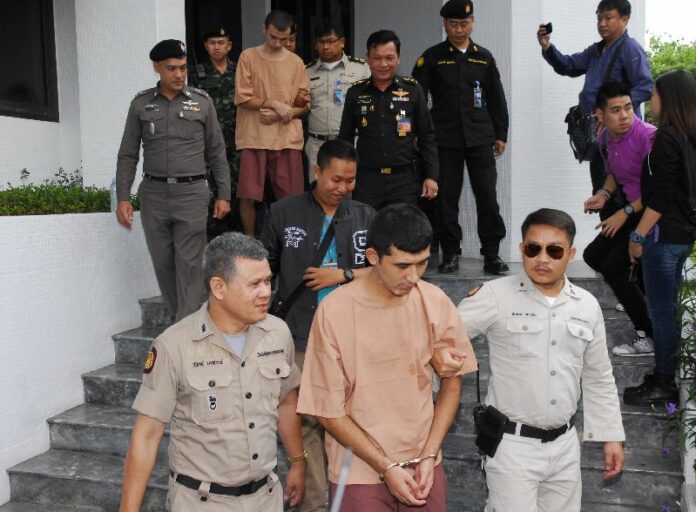 BANGKOK — Two Uighur men accused of engineering the bomb attack that killed 20 people in Bangkok in August are set to be released from custody in 10 days unless prosecutors formally file charges against them.
The two accused, Mohammad Bilal and Yusufu Mieraili, are being held at a military prison in Bangkok, where a court Thursday granted the final extension allowed under the law, as suspects can only be held up to 84 days without charge.
Those 84 days are generally divided into seven periods, each lasting 12 days. On Thursday, judges in a martial court approved the seventh and last remand session for the pair, who were arrested been held in custody since September.
Prosecutors have yet to bring charges against the two men, citing the massive amount of evidence related to the bombing, which struck the popular Erawan Shrine in downtown Bangkok on Aug. 17. Twenty people were killed and hundreds injured in the rush-hour attack.
---
Bangkok Shrine Bombing: Those Who Died
---
The men face a number of possible counts including possession of explosives and premeditated murder. Despite the attack nature of the attack, in a which a bomb exploded during rush hour at a busy tourist destination to inflict maximum carnage, police in October said their chief suspects wouldn't be charged with terrorism. That decision was panned by critics as serving the tourism sector and not justice.
Whatever charges are brought, prosecutors have a lot of material to sift through, according to the lawyer representing Bilal, aka Adem Karadag.
"There are many case files," Chuchart Kanpai said. "I think there are around 40 boxes of documents, with over 10,000 pages."
Chuchart dismissed any possibility of the two men being freed, saying he heard the prosecutor is nearly done reviewing the evidence. In fact, even if the 84 days expire, the prosecutor could ask the military tribunal to grant three or four more days.
"The military system is different to civilian court," Chuchart said in a telephone interview.
---
Interactive: Who's Who in the Bangkok Bombing Investigation
---
Bilal and Mieraili were arrested on Aug. 29 and Sept. 1, respectively. They were initially placed in military custody for interrogation and later handed over to the military court, which has been assigned by the military junta to oversee cases affecting "national security" after the May 2014 military coup.
The two men are facing charges of premeditated murder and other explosive-related offenses. Chuchart said both men confessed to the crimes.
Limited access
Since September, Bilal and Mieraili have been held at an army base in Bangkok, where a temporary prison was built to house suspects deemed threats to national security.
Chuchart said officials at the facility have created obstacles for his work. For instance, he said, soldiers and prison officials are always present with him and his client.
"It does affect my work, because Adem is sometimes too afraid to talk, with the soldiers sitting right there next to us," Chuchart said. "Usually, in civilian prisons, there's no such practice. We are left alone with our clients."
No lawyer has been appointed for Mieraili, he said, and the court will only appoint him one after the trial has already begun. The lawyer said he believes the two men have not been allowed any visitors apart from the defense team.
Communication with Bilal also remains difficult, because no Uighur interpreter has been provided so far, though Chuchart said he had recently requested an interpreter who speaks Uighur, a Turkic language, and he hopes the request will be granted.
"We have only been provided with an English interpreter, but Adem is not good with English," Chuchart said.
Bilal has said he's an Uighur who later gained Turkish citizenship, while Mieraili had a Chinese passport when he was arrested.
Neither the Turkish and Chinese embassies have sent any representative to assist Bilal or Mieraili, the lawyer added.
Related news:
Bangkok Bombing Suspects Won't be Tried for Terrorism
Police: Bangkok Bombing was Revenge for Uighurs
Bangkok Bombing Suspect Confesses, Police Say
To reach us about this article or another matter, please contact us by e-mail at: [email protected].
Follow Khaosod English on
and
Twitter
for news, politics and more from Thailand.