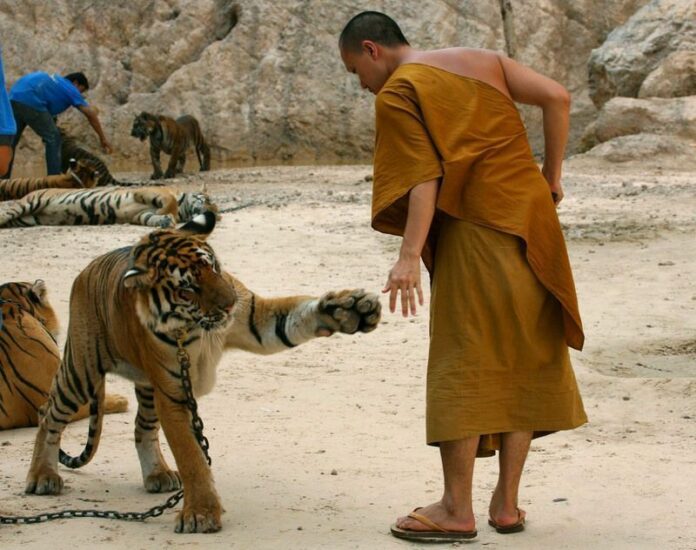 KANCHANABURI — Wildlife officials will remove 50 tigers from the infamous Tiger Temple in Kanchanaburi province tomorrow, according to animal rights activists, who have long accused the facility of being complicit in trafficking the very animals it claims to protect.
Nine months after abandoning a previous effort to remove about 100 tigers from the facility, wildlife officials reportedly met with temple abbot Phra Wisutthisannen on Tuesday to discuss the welfare of the animals.
The head of one organization campaigning for the tigers to be removed said the first 50 would be removed Wednesday.
"Department of National Parks to remove first 50 tigers from #TigerTemple starting tomorrow," Edwin Wiek, the founder of Wildlife Friends Foundation Thailand, tweeted late Tuesday afternoon. "Average of 10 tigers a day planned."
Reached for contact, staff at the Tiger Temple declined to comment. Regional wildlife official Yanyong Lekavichit declined to comment and referred a reporter to the wildlife foundation.
Wildlife Friends Foundation announced Sunday that this week's talks would likely result in "the removal of at least 75 tigers from the temple to a government rescue center" as soon as Thursday.
The current negotiations mark the most recent effort to either remove the tigers or shut down the temple, where tourists pay to pose for photographs with the wild animals.
In February, a raid on the temple was conducted by wildlife officials, police, soldiers and veterinarians. Temple staff refused to unlock doors and cages.
The raid came after a former veterinarian accused the temple of selling at least three of its big cats. The Department of National Parks, Wildlife and Plants Preservation said it would rescue all wildlife from the temple and move them into government facilities in Ratchaburi province.
In May the temple fielded its monks to blockade trucks sent to remove moon bears it was keeping illegally. Officials eventually used a crane to rescue six bears from over a compound wall.
The controversial temple, also called Wat Pha Luang Ta Bua Yanasampanno, is located in the Saiyok district of Kanchanaburi province.
Phra Visuthisaradhera or "Luangta Chan," the abbot of the temple, was reportedly mauled by one tiger and sent to hospital in May. The monk's doctor told AFP it was an accident.
Related stories:
Abbot of Infamous 'Tiger Temple' Attacked by Tiger
Thailand's Tiger Temple Ordered to Give up Tigers
Asian Black Bears Seized From Thailand's Tiger Temple
To reach us about this article or another matter, please contact us by e-mail at: [email protected].
Follow Khaosod English on Facebook and Twitter for news, politics and more from Thailand.