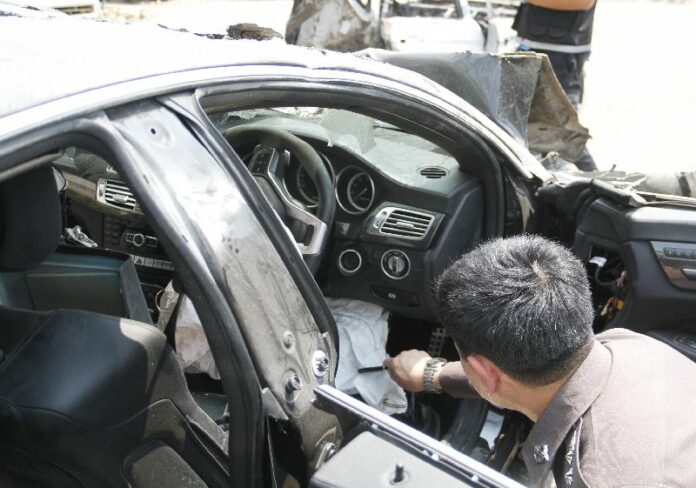 BANGKOK — Jenphop Viraporn was driving under the influence of an antidepressant with side effects which could impair driving, according to police, who said they are still working to establish how fast how he was traveling when his Mercedes-Benz caused a fiery wreck that killed 2 people last week.
National police chief Chakhtip Chaijinda announced the results of a toxicology test but did not say what it was.
"In preliminary results, we found an antidepressant substance, but we cannot yet identify what kind of substance it is," he said.
---
Top Cop Apologizes for Delay in Jenphop Case
---
Ayutthaya police commander Sutthi Puangpikul said separately that Jenphop's driving ability might have been affected by medication he took for "depression issues." Antidepressant Lexapro has been widely reported to have been found in his vehicle after the crash. Drowsiness is a routine side effect of the drug.
"We already questioned doctors. They say the medicine may result in side effects that make you drowsy and agitated," Sutthi said. "The medication may have had some effect in the accident."
Police spokesman Krissana Pattanacharoen told reporters Monday that police are also checking with doctors whether Jenphop suffers from any serious mental illness.
Despite media reports indicating Jenphop was speeding at over 250kph in the 13 March crash, Sutthi said police are still working on it and expect to publicize the results by Monday.
"I don't know where the news comes from. The matter is still under investigation," Maj. Gen. Sutthi said over telephone Tuesday. "The Forensic Police asked for seven days to conclude it … they will wrap up by next Monday."
Dashcam footage from a third, uninvolved vehicle shows Jenphop's car approaching at what appears a very high speed and slamming into the back of a Ford Fiesta in Ayutthaya province.
The crash sparked a fire that soon engulfed the car, killing graduate students Krissana Thaworn, 32, and Thantapat Horsaengchai, 34.
Jenphop remains hospitalized in Bangkok for what police described as knee and head injuries. He is facing charges of fatal reckless driving and causing the deaths of others while under the influence.
The latter charge was filed because Jenphop refused to be tested for alcohol in the aftermath of the crash; under Thai laws such refusal automatically means the drivers are guilty of having the substance.
Related stories:
Fresh Charge Against Jenphop as Model Student Victims Laid to Rest
Businessman Charged for Fatal Collision Amid Mounting Criticism
Officers In Charge of Ayutthaya Deadly Collision Removed
Jenphop Plowed Through Toll Booth Before Deadly Crash (Video)
Teeranai Charuvastra can be reached at [email protected] and @Teeranai_C.