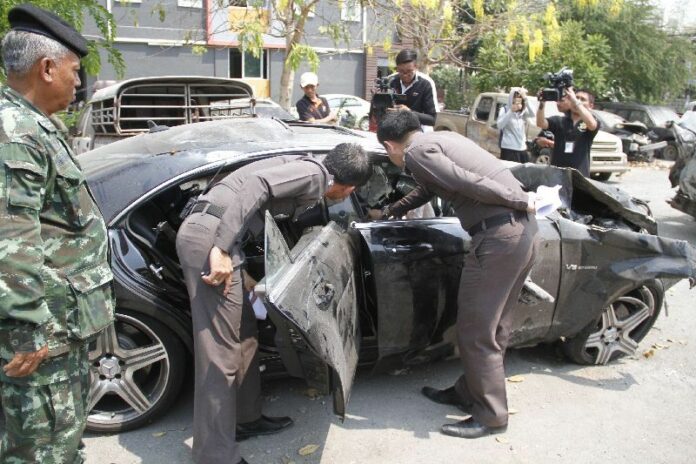 AYUTTHAYA — Police today sent prosecutors their case against a wealthy businessman responsible for deaths of two graduate students in a fiery crash a month and a half ago.
The case file names eight charges against Jenphop Viraporn, 37, including fatal reckless driving, driving under the influence, speeding and refusing to cooperate with law enforcement for the March 13 crash, which garnered widespread attention and complaints authorities had slow-walked the case.
---
Cops Promise to Send Jenphop Case to Prosecutor This Month
---
The 686-page case was sent Tuesday to attorney general.
Deputy national police chief Pongsapat Pongcharoen said they declined a request from the families of the victims to charge Jenphop with premeditated murder.
Pongsapat said they lacked evidence to prove the suspect, who was driving 257kph at the time, intended to kill anyone.
"There's no evidence pointing to the suspect's intention to kill others, so we did not file this additional charge," Police Gen. Pongsapat said.
He added that 52 witnesses will testify at the trial.
Jenphop, who like his father owns a luxury car company, is currently free on bail.
After plowing through a toll booth without slowing down, Jenphop slammed his Mercedes into the back of a Ford Fiesta on a highway in Ayutthaya province, killing 32-year-old Krissana Thaworn and Thantapat Horsaengchai, 34. Both victims were graduates at a Buddhist university; Krissana was about to receive his degree, while Thantapat was set to embark on a pilgrimage in India.
Police have come under criticism online and off for their slow handling of the investigation; Jenphop was allowed to refuse a sobriety test and was not questioned or charged until four days had passed.
That led to complaints police were shielding Jenphop from justice as in other high profile cases involving the wealthy and well-connected.
Police have since attempted some damage control. The investigators who failed to test Jenphop for drug and alcohol were removed from their posts and subjected to a disciplinary inquiry, and the suspect is now charged with driving under the influence.
Related stories:
Businessman Charged for Fatal Collision Amid Mounting Criticism
Officers In Charge of Ayutthaya Deadly Collision Removed
Jenphop Plowed Through Toll Booth Before Deadly Crash (Video)
Fresh Charge Against Jenphop as Model Student Victims Laid to Rest
Teeranai Charuvastra can be reached at [email protected] and @Teeranai_C.