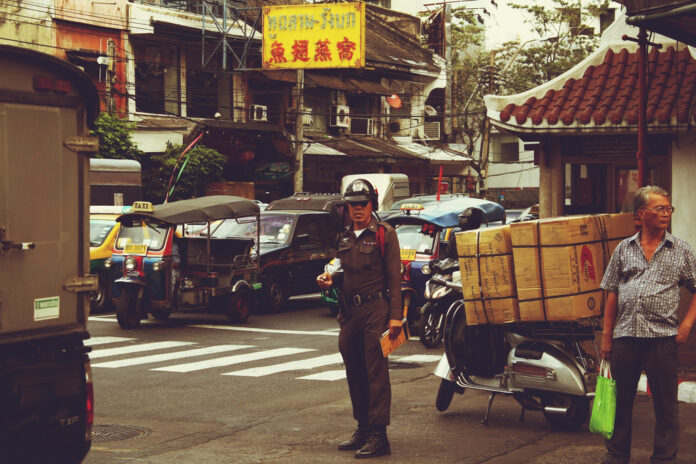 BANGKOK — When deputy inspector Chanchai Yensuk was told by a colleague that he could get him promoted to full inspector for 700,000 baht, Chanchai handed over the money.
But the man he paid it to, another deputy inspector named Chanintat Rattanachinotrai, apparently couldn't work his magic, as Chanchai didn't get the expected promotion in the latest shakeup.
Upset at the perceived betrayal, Chanchai then filed a bribery charge against Chanintat, only to learn he could also be considered guilty of the crime.
Both officers are now under criminal and administrative investigations.
The whole thing has proved another embarrassment for Thailand's police force, an institution known for chronic corruption and nepotism. Even junta chairman Prayuth Chan-ocha vowed he would personally insure the matter was taken seriously.
"The Royal Thai Police must bring this person who offered the bribe [to justice]. If he's really guilty, I won't let him get away with it," Gen. Prayuth said Tuesday.
According to the complaint filed by Cpt. Chanchai, he was approached by Cpt. Chanintat last month. Chanintant claimed to know puu yai (influential people) in the national police force that could make Chanchai a full inspector, in exchange for a gift of 700,000 baht.
Chanchai said he accepted the offer and arranged a meeting for June 8 at a gas station in Bangkok's Bang Sue district where he had his wife pay the money. But when the latest police appointments were published, Chanchai wasn't listed as an inspector, so he went to Bang Sue Police Station on July 5 to press charges.
But under the law, both parties in bribery, attempted or otherwise, are guilty of the crime, so police launched an investigation against both men.
The investigation is being handled by three police stations simultaneously: Nimitmai and Bang Rak stations where Chanchai and Chanintat are stationed, respectively, and Bang Sue station, which has jurisdiction over the gas station where the bribe was allegedly paid.
Although police commissioners pledged to take action, both Chanchai and Chanintat remain on active duty.
The police chiefs in charge of the investigation said although Chanchai and Chanintat have confessed to the bribery deal, they won't outright condemn their actions. They said they want the probe to be concluded before making any judgement.
"Since details are still unclear, I still cannot say whether this is wrong or not," Col. Thanachai Utsahakit, chief of Nimitmai Police Station, said.
Col. Nakhon Thongpanich, chief of Bang Rak Police Station, said, "We want the investigation committee to finish this matter first. I don't want to comment on it yet."
Nakhon said the inquiry is expected to wrap up before the month's end. He said Chanintat lied about knowing well-connected people in the force.
"If it were true, he would have got the rank of inspector himself already, wouldn't he?" Nakhon said. "Suppose he could really lobby for jobs, why is he still a deputy inspector? His claim of lobbying is just a scam."
The Bang Sue chief could not be reached for comment.
Police spokesman Songpol Wattanachai said Chanchai and Chanintat would be expelled or suspended if found guilty.
Accusations of widespread bribery persist in plaguing the police force, where careers can be threatened by unpredictable waves of transfers and shakeups, and officers are known to often cajole and lobby for desired positions.
Related stories:
Celeb Finds Not Everyone Amused by Cop-Bribing Story
Corruption Catch-22: Report a Bribe and Go to Jail?
Thailand Wins 'Ig Nobel' Distinction for Bribing Cops not to Take Bribes
Policeman Rewarded 10,000 Baht For Declining Bribe
Underage Girls, Police 'Bribe Ledger' Discovered in Raid on Ratchada Flesh Parlor