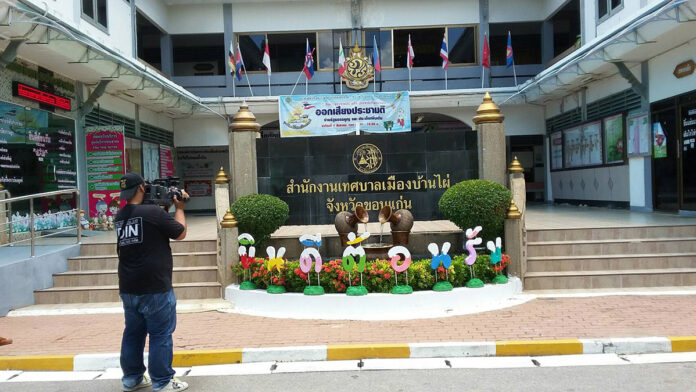 KHON KAEN — A reporter for a national newspaper was stripped to his underwear by a mayor in northeastern Thailand on Tuesday as revenge for his coverage of the official's engagement to a teen schoolgirl, according to a report.
The bizarre punishment allegedly ordered by Premsak Piayura came after Daily News published an unsigned report Monday that the 51-year-old mayor held a ceremony on the occasion of his engagement to a teenager in high school, photos of which were published along with the report – despite the bureaucrat's request for privacy.
On Tuesday morning, Premsak ordered all local reporters to his office for a lecture on privacy. But whereas other correspondents merely got a stern talking-to, Daily News said its reporter was held back and forcefully stripped by members of Premsak's staff, according to a journalist present at the meeting.
"It's like he wanted to draw a comparison and teach a lesson," said the journalist, who requested anonymity because he feared retaliation from Premsak. "He asked the reporter: Are you embarrassed when someone violates your privacy like this?"
A former Thai Rak Thai politician, Premsak is mayor of Khon Kaen's Ban Phai district. The Daily News report said he paid a dowry of 400,000 baht and a Toyota Vios. Seventeen is the minimum legal age to marry with parental consent.
Someone answering the phone at Premsak's office Tuesday said the mayor was out of town on official business and could not be reached for comment.
Daily News editor Chai Patakamin said he's discussing with executives of the newspaper how to best respond to Premsak's alleged actions. He insisted the newspaper reported about the mayor's engagement to the high school student because it was newsworthy.
"We published and presented the news as we do in other routine stories," Chai said. "We did not have any personal vendetta against him."
Chai did not name the reporter at the center of the incident. The reporter also told his colleagues he would not speak publicly because he feared further harassment.