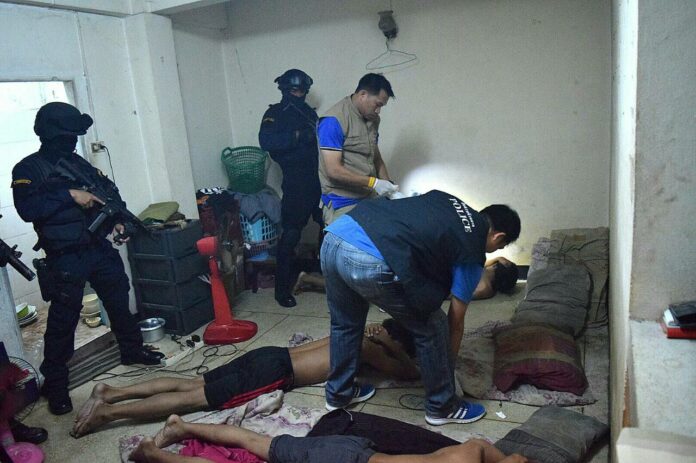 BANGKOK — Police operations in connection with reports of a plot to detonate car bombs in the capital city continued Saturday, with six more people taken into custody, bringing the known number of people in detention to 21.
The sweeping arrests, which began Monday, alarmed civil right groups because authorities have not disclosed the whereabouts of many of the suspects or when they will be released. There are also concerns the military, not police, is holding the suspects.
Read: Sweeping Bangkok Terror Raids Prompt Fears of Secret Detentions
"I'm not sure [where the suspects are held]. I cannot answer that, it is up to my supervisors," Col. Suppachat Piammanat, the officer in charge of Saturday's raid, said by telephone.
Six people were arrested when police raided their apartment building in Soi Ramkhamhaeng 53 on Saturday morning. Police released almost all of them later in the day, detaining only one person for further interrogation, said Suppachat.
Wartani, an online news agency based in the southern border provinces, reported that a total of 40 people were arrested in the area around Bangkok's Ramkhamhaeng University between Monday and Wednesday. Many southerners are enrolled at the university, and all of the 40 suspects are Muslim students who hail from the Deep South, the news agency reported.
Most of the suspects arrested between Monday and Wednesday were later released, leaving 15 in custody, Wartani said. Three of these suspects are currently held in prisons, one on an army base while the others' whereabouts are unknown, the news agency said.
Suppachai said it's possible that the military is holding the suspects for questioning.
"I cannot answer for them," he said.
Police initially said the operation's objective was to search for evidence and suspects linked to an intelligence report that warned of possible car bomb plots targeting Suvarnabhumi Airport and other landmarks in southwestern Bangkok. But in Saturday's interview Suppachat played down the bomb threats as a factor behind the operation and said it's mostly about fighting crime committed by users of a herbal stimulant.
"It's related. We are expanding the investigation, but our main objective is to suppress crimes," Col. Suppachat said. "Most of the suspects we arrested are kratom addicts. Kratom drives people to commit crimes, from rape to theft."
Human Rights Watch on Thursday warned that the authorities are arbitrarily arresting people and putting them in secret detention. The group's regional coordinator, Sunai Phasuk, urged the authorities to immediately release details about the suspects.
"The government must account for these people," Sunai said on Thursday. "Where are they? What are their charges? And the government must give assurance that they will not receive ill treatment. The government can't simply say the military have them. That's not enough."
Related stories: