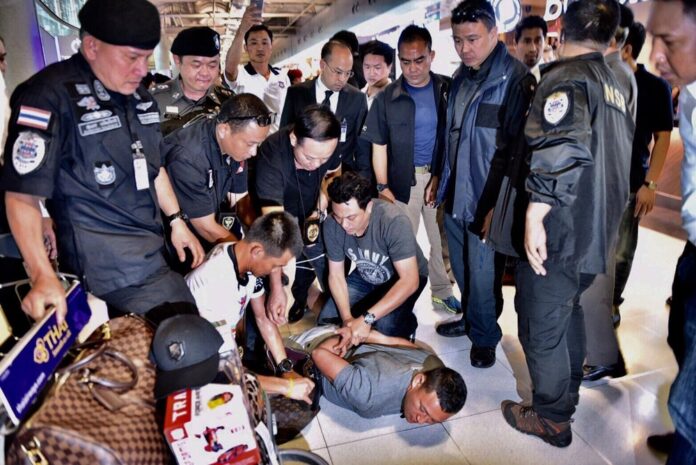 BANGKOK — Police said on Thursday that they are not considering any plan to extradite alleged drug kingpin Xaysana Keopimpha back to Laos.
Police spokesman Krissana Pattanacharoen said the force wants to prosecute Xaysana in Thailand and dismissed speculation Thai authorities want to use the Laotian suspect as a bargaining chip in exchange for political dissidents seeking refuge in Laos.
"It's not related at all. This is a different matter," Col. Krissana said. "We want to prosecute him on the Thai side, because his wrongdoing took place in Thailand, and in this case, we were tracking him for over five years, and it's leading us to smash the rest of his drug network."
Deputy national police commissioner Rungroj Sangkram also told reporters Wednesday that there is no plan of extradition at this time.
Read: Laotian 'Drug Kingpin' Arrested at Bangkok Airport 
Xaysana, whom police identified as the most influential drug lord in northeastern Thailand, was arrested at Suvarnabhumi Airport last month, and police have been naming suspects in connection with his network since. Those named as Xaysana's accomplices include celebrities and police officers.
Xaysana's arrest also sparked suspicion among some Redshirt activists that the Thai government may use him to negotiate with Laotian authorities for the extradition of Redshirt fugitives and those charged with royal defamation who are living in exile in Laos.
The Laotian was arrested ten days before the Thai spy chief flew on a trip to Laos on Jan. 31. Officials said National Security Council sec-gen Thaweep Netrniyom was in Vientiane to jump-start another round of extradition talks, an effort that has yielded no result so far.
Historian and monarchy critic Somsak Jeamteerasakul wrote online that he wondered whether an exchange will be considered by both countries.
"I think it is possible that the [junta] will mount another attempt to pressure Laos to stop giving refuge to the exiles," said Somsak, who's an exile living in France himself. "Is this matter related to Xaysana who's on the news right now? I don't have other information than what is reported in the news, but I can't help wondering, are Thai authorities expecting something in return from cooperating with the Laotians to wipe out Xaysana's network?"
Krissana, the police spokesman, said such speculation is far-fetched.
"Here's what it is: we haven't even reached that issue yet," the colonel said. "We are not touching any dimension about international issue yet. This is totally different matter. We are now focusing on investigation on Xaysana's network in our country."
He added that Laotian authorities do have the rights to make a request for the extradition of Xaysana, but the decision will ultimately rest with Thailand. Krissana also said Laos has not made such request.