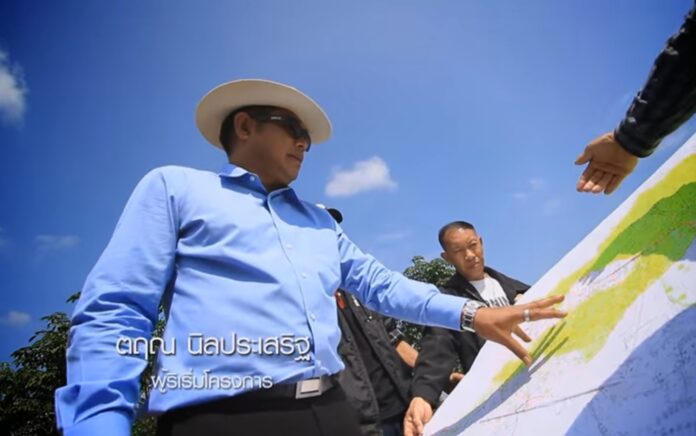 CHIANG RAI — It seems Thailand won't see its colors fly atop the world's tallest flagpole as promised by a businessman last year after all.
Trin Nilprasert, 48, was arrested Sunday for welshing on 24 million baht meant for contractors to clear the ground for the construction of a massive flagpole in Chiang Rai province. The officer in charge of the case said Monday that the enterprise, which launched with much patriotic fanfare last year, is now abandoned.
"Everything has stopped since last year," Capt. Prasong Somphonsert said by telephone. "There is no further action there. The site is now abandoned."
Read: Thai Flag to Fly the Highest Atop Record-Shattering Pole
Police said a contractor called Asian Thai Development complained in August it was promised 24 million baht by Trin to lay the foundation for what would have been the site of the world's tallest flagpole. After having paid a surety of 2 million baht and beginning the work, the contractor said Trin told them to stop work and then disappeared with the money, police told reporters.
Police charged Trin with fraud and obtained an arrest warrant for him on Thursday. Officers apprehended him Sunday night at a checkpoint in Chiang Rai. Trin reportedly declined to give make any statements and was later freed on a 100,000 baht bond.
Calls to Trin's mobile phone went unanswered Monday.
Prasong said Asian Thai Development wasn't the only company duped by Trin, but other companies didn't take legal action because their damages were relatively small, only in the "hundreds of thousands of baht."
"The victim with the biggest damage was [Asian Thai Development]. They also filed a complaint with the government complaint center in Chiang Rai," he said.
Trin first announced the construction of the flagpole in December 2015. He won media coverage – and solicited donations – by saying the project was meant to unite Thais and mark the flag's 2017 centennial.
"I saw Thai people hurting each other because of different political ideas. When they were angry, they hit each other with Thai flagpoles," Trin said in January 2016. "But athletes used flags to wrap themselves to express their joy."
Capt. Prasong said there are no reports of Trin defrauding anyone with his donation drive so far.
The project was launched on Jan. 11, 2016. Among dignitaries to attend the groundbreaking ceremony were Chiang Rai Gov. Boonsong Techamanisatit and a representative from Trident Support, which built the current tallest flagpole in Jeddah, Saudi Arabia.
Trin said he'd hired Trident to build the project in Thailand, and claimed part of the deal involved the company's commitment to never build a taller one.