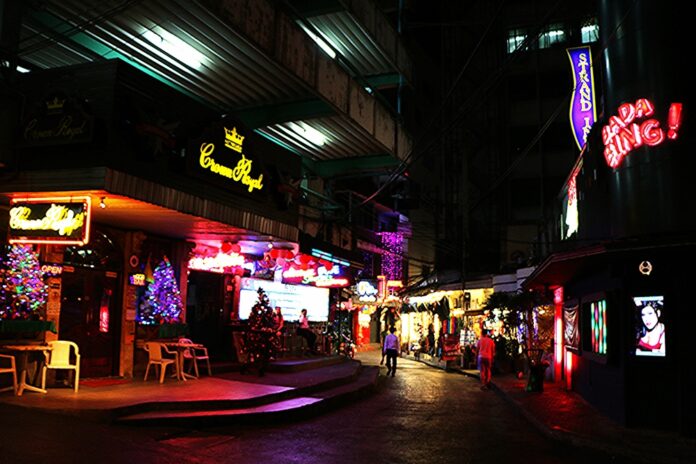 BANGKOK — Police on Tuesday said a British national's claim that she was raped by a male masseur at a Thai massage parlor in Bangkok was false.
The tourist posted her account of the incident online Monday, alleging she was assaulted at Tarntawan Massage in Bang Rak area, close to the red light district of Patpong. Like the police, the manager of the establishment disputed her story.
"On no accounts should you go to Tarntawan Massage in Patong [sic] (opposite the Meredian [sic] hotel)," she wrote in a post to a Facebook group. "Yesterday at 3pm I was raped by a male member of staff. I am aware that this is a red light district and I suppose some sort of misunderstanding could initially have been made on his part until I repeatedly shouted NO in both Thai and English and he held me down and continued."
As the woman was a possible victim of sexual violence, Khaosod English is withholding her name.
The woman said she had to kick the rapist to make him stop, and later went to file a report at the police station, but police ignored her complaint. According to her post, the man who raped her also showed up at the police station and made threatening gestures to her, yet police officers did not take him into custody. Instead, they blamed her for the crime, she said.
"The man that raped me was laughing and making 'you're dead – throat gesticulations at my boyfriend," she wrote online. "The police totally sided with the massage place and cut down everything I said very aggressively. They blamed me for using a male masseuse despite the fact that I was told there were no females."
In the end, police merely made the rapist apologize, the woman said.
"I only intended on a warning to expats Thais against visiting this massage parlour but it's affected me quite severely and I was offered no emotional support by the authorities," she wrote. "Currently I feel afraid to even post this as I'm not sure who they were or what kind of power they have out here."
The tourist did not respond to a request for comment.
Col. Nakhon Thongpanich, chief of Bang Rak Police Station, said the woman did not file any complaint. He also accused her of having "bad intent."
"No complaint was filed," Nakhon said. "She had bad intent … Nothing she said happened. She was just making it up."
A manager of Tarntawan Massage denied that the rape took place. Speaking by telephone, Namphroh Chopkarn said the woman did visit her shop at about 4:30pm on Sunday for an oil massage with a male staff member, but she later left without paying.
Half an hour later, Namphroh said, the woman and a foreign man who identified himself as her boyfriend returned to the shop, berated the staff for raping her and demanded an apology. Namphroh said the masseur insisted he didn't do it, but the tourist asked for compensation of 8,000 baht. Namphroh said he negotiated it down to 5,000 baht.
"I asked if I could pay 5,000 baht. I didn't want any troubles with foreign tourists," Namphroh said.
The pair left but later came back again and shouted about the rape, according to Namphroh. At this point he said he called the police, and they all went to Bang Rak Police Station, where police asked the woman if she wanted to file a complaint. She declined on the grounds that she kept the 5,000 baht, Namphroh said.
"So we made an agreement to end everything right there, but she went on to speak about it anyway," the manager said. "I'm consulting police if I should take any action about that. Frankly, I regret trusting her and paying her the money."
Related stories:
Police Confirm Australian Tourist Raped, Issue Arrest Warrant