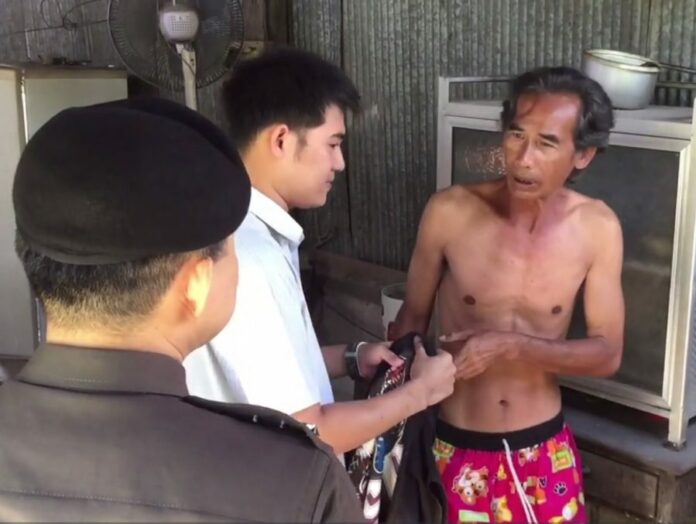 HUA HIN — A man seen in a viral video threatening to shoot government, police and army leaders has been deemed mentally ill and sent for treatment, police said Monday.
Songwit Sukprasert, 52, was arrested Saturday at his home in Hua Hin, a day after footage of him emerged challenging Prime Minister Prayuth Chan-ocha and other top officials to duels in front of a police officer.
"He was behaving in a crazed way, so we sent him to Hua Hin Hospital," Hua Hin police chief Sitthichai Srisopacharoenrat said by telephone. "A doctor diagnosed him with a mental condition, so he was sent to the Galya Rajanagarindra Institute. He is now an inpatient there."
Songwit was not charged with any crime, Col. Sitthichai added.
Songwit was seen approaching a policeman on patrol on Friday and telling the officer that he wanted to shoot Prime Minister Prayuth, police commissioner Chakthip Chaijinda and army commander Chalermchai Sittisart. The video first surfaced in police Line chat groups before going viral on social media.
https://www.youtube.com/watch?v=VXgyL92TAGo
"Please take a photo of me. I challenge him, I want to shoot him in the head. Whenever he's ready," Songwit said in the video, in which he also gave his full name.
Police detained Songwit the next day. After shouting that he would "bomb you all today," he was subdued by police and taken to hospital in an ambulance.
Songwit's sister told police he suffered brain damage in a 2004 motorcycle accident.
The officer who filmed Songwit's challenges was also placed under disciplinary review for sharing the video, police chief Sitthichai said.