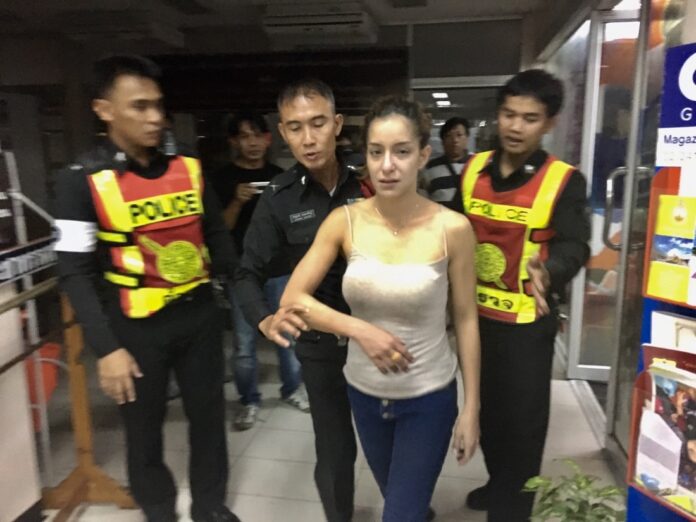 BANGKOK — A former British-Thai actress who avoided jail time for killing a policeman in a car crash two years ago was arrested Sunday night for drunk driving.
Anna Hamblaouris, known by her stage name Anna Reese, was apprehended after she got into an argument with a bar owner and crashed into another vehicle at a parking lot near Ratchadapisek Road. Police said Anna – who blamed her erratic behavior on family problems – was being tested for other substances Monday morning.
"At this moment, we have charged her with DUI," said Col. Arkom Chantanalat, chief of Huai Khwang police. "We have also sent her to the police hospital for narcotics testing."
Read: Out of Sight and Mind, Actress' Fatal Crash Case Ends Without Jail Time
Police will take her to court after the results are available, Arkom said.
Officers were called to the scene after Anna, 30, reportedly became intoxicated and began throwing objects inside the bar at about midnight. She tried to flee the scene but ended up crashing her BMW into another car in the parking lot. Police later arrested her and gave her a breathalyzer test, which indicated a blood alcohol level over the legal limit.
When reporters arrived at the police station to film her, Anna screamed incoherently at them and the officers.
"You can stay here! I don't have power, but today I rely on my truth," Anna shouted. "Ake, your name is Ake, have you thought that your actions might have affected anyone in a higher position?"
She was held overnight at the station's cell room. When she was questioned by police in the morning, Anna wept in front of cameras and said she was stressed by family problems. She was later granted a bail on a 20,000 baht bond.
"Many issues. I have to take care of my family, and my sibling, well, it's, my sibling is a special kid," Anna said between sobs. "I tried to adjust my emotions."
Col. Arkom said Anna confessed to driving under the influence.
Anna, who was known as a B-movie actress at the time, rose to infamy in June 2015 when she crashed her BMW into the back of a police car, killing Lt. Col. Naphadol Wongbundit as he was sleeping inside.
She created a dramatic scene, crying and clinging to the dead officer's body. When officers attempted to speak to her, she screamed at them and ultimately was allowed to go home without a sobriety test. Police never filed a DUI charge against her. In an interview that drew outrage from social media, Anna said at the policeman's funeral that she believed her victim's ghost had forgiven her.
The court later convicted her of fatal reckless driving and gave her a suspended jail sentence and community service.