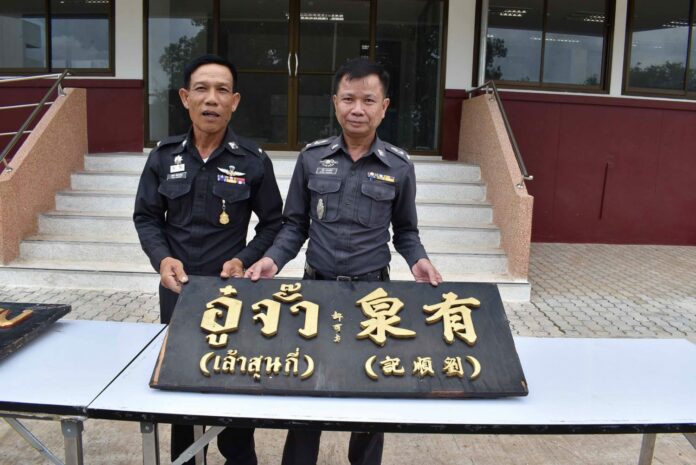 KALASIN — A century-old shop sign was unexpectedly returned to its owner Tuesday, a week after it was stolen.
Police in Kalasin province said the stolen sign was mailed to its rightful owner through mail. Post office workers spotted the package and alerted authorities Friday, according to police.
Grocery store owner Jiraporn Laopongpitch said she was happy to be reunited with the family heirloom passed down to her from her grandparents, who emigrated from China and opened the shop about a century ago.
"I'd like to thank police and the media for their news coverage and for pressuring the perpetrators to return the sign," Jiraporn said at a news conference at the Kamalasai Police Station.
The sign of Lao Sun Kee grocery store went missing on June 18. Security camera footage shows a man taking it down in the early hours before driving away on a motorcycle.
Police said the theft investigation will continue. Officers are tracking down the suspect based on fingerprints found on the mail package.
Jiraporn suspected the thief worked for a gang known to prey on antique signs in Sino-Thai communities. Experts believe these artifacts can fetch tens of thousands of baht in the black market.