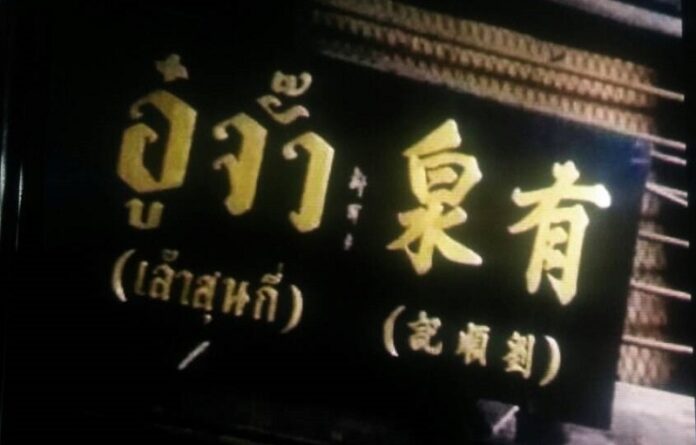 KALASIN — Police in the northeastern province of Kalasin are looking for whoever stole a shop's century-old sign after its owner offered 10,000 baht reward.
The sign, which hung over a grocery store called Lao Sun Kee, was stolen in the early hours of Sunday. Store owner Jiraporn Laopongpitch, who offered the bounty on Tuesday, said she suspects the thief belonged to a gang that preys on antique shop signs, such as the one she inherited from her grandfather.
Update: Stolen Antique Shop Sign Returned to Owner
"I was very shocked," Jiraporn said, adding that the sign, along with the shop, is over 100 years old. "I'd like to plead with the thief who stole the sign to return it to my family."
She said the shop was opened by her grandparents, who emigrated from China along with millions of others at the time.
CCTV footage shows a man between 35 and 40 arriving on motorcycle in the morning and taking down the sign, police said.
Jiraporn offered police in Kamalasai district 10,000 baht as a reward if they manage to apprehend the perpetrator. Police then offered it as a bounty to anyone with information leading to an arrest.
Suthep Chanasithi, chief of Kamalasai Police Station, said Wednesday his force still has no leads. He also declined to speculate on whether the perpetrator belonged to any group.
But Jiraporn said she had reasons to suspect a larger criminal network at work because three months ago someone allegedly visited her grocery store and offered to buy the shop sign for a large sum – which she refused.
"I didn't sell it because it was a spiritual reminder of my father," she said.
There seem to be many reports of thefts of old shop signs in recent years, according to a search of news accounts, largely in Sino-Thai communities in Bangkok, Ratchaburi and Udon Thani provinces.
Related stories:
Shop Offers 100,000 Baht For Rare 10 Baht Coin