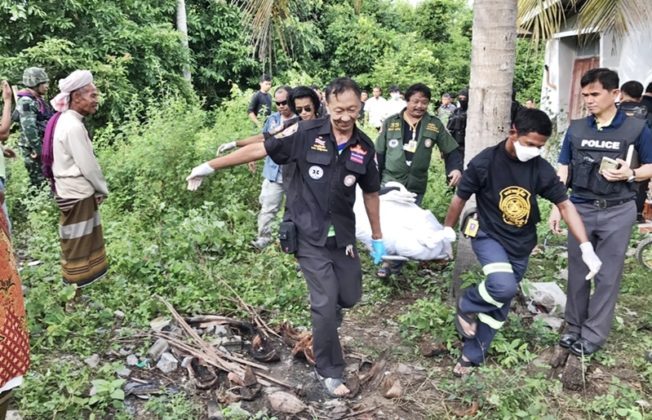 PATTANI — A man was shot dead Wednesday after a confrontation between soldiers and a group of armed suspects, while two witnesses remained under custody as of Thursday evening.
Army officers shot a man dead and arrested another two at 2am on Wednesday during a raid on a house in Pattani they suspected was inhabited by insurgents plotting an attack, while two other suspects fled the scene.
The two men, Paoyee Tasamoh, 44 and Abdullah Jaemah, 70 were aprehended and taken for questioning, a local intelligence officer said. As of Thursday evening, the pair remained in detention at the Ingkhayut military base under the power of martial law – which allows the military to detain people up to seven days without charge.
Martial law is exclusively implemented in the Deep South, including Pattani province.
"The questioning could not be done right there. It has its process so we had to take them into custody," said Sgt. Maj. 3rd Class Piyawat Tritrong on Thursday. "They will be released once officers get information."
Piyawat said he believed the two men should be able to provide useful information as one of them is the owner of the house where the group met.
The early-morning raid was conducted after an informant reported there would be a gathering of insurgents in the area to plan an attack. When police arrived at the house behind Kahong Masjid, they found a group of three men sitting in front of it.
As they were fleeing into the jungle behind the house after spotting officers, one of the men allegedly fired three shots at soldiers. Officer then fired back, resulting in the death of Suding Mamah, a 29-year-old Pattani native, said Piyawat.
Piyawat said officers believed Suding had a link to the car bombing in front of Big C shopping center – which injured at least 61 people in May – because his motorcycle, left at the scene, appeared to be similar to the one on which the perpetrator hopped after parking the car.
No one has claimed responsibility for the attack, though police said evidence points to separatist militants.
Officers also found two guns at the scene.
Related stories:
At Least 58 Injured by Car Bomb in Downtown Pattani
Owner of Truck Used in Pattani Car Bombing Missing