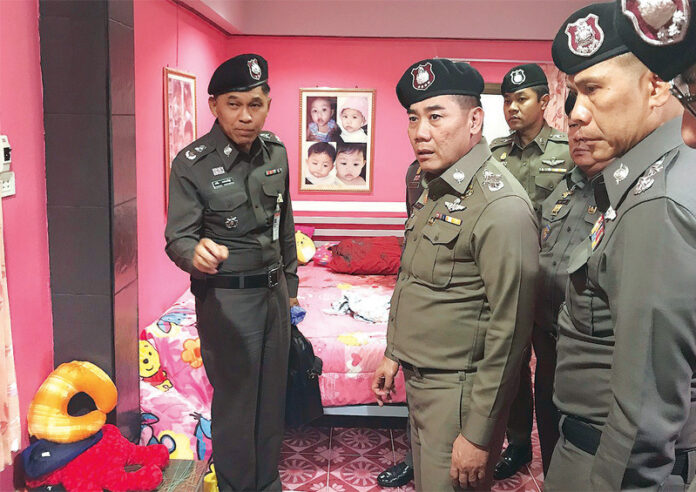 KRABI — Three men were arrested Saturday night on suspicion of murdering a family of eight in Krabi province last week, police said.
Police commissioner Chakthip Chaijinda announced the arrests after he flew to the southern province to question the three suspects, who are being held at an army base. The trio is accused of taking hostage and killing a local official and his family members clad in army fatigues at their residence on July 10.
Krabi Family Massacre: Victim Linked to Land Dispute Lawsuits
Gen. Chakthip refused to give any other details, such as their names, motives and connections to the victim, village administrator Worayuth Sanlang. He said police will convene a formal news conference Sunday afternoon.
"Let me go back [to Bangkok] and summarize the information first," Chakthip told reporters.
He added that investigators found sufficient evidence to implicate the three men, including the vehicle where they allegedly drove to the Sanlang family residence.
It is not immediately clear whether the three men are civilians or security officers.
Krabi police commander Worawit Panprung declined to speak about the investigation and referred all questions to Chakthip.
"This case has details that are very complicated," Maj. Gen. Worawit said by phone.
Of 11 people who were at Worayuth's home, only three survived. The rest were either killed on the spot or died after being taken to the hospital with gunshot wounds to the head, police said. Chakthip said the murder weapon was a handgun that belonged to Worayuth.
The dead include the Worayuth, his wife and his two daughters, age 13 and 11.
Citing survivors' accounts, officers said a group of masked men in army camo entered the residence at about 4pm and held the family members captive until Worayuth came home later that night.
Once the village chief returned, he was detained alongside his family before the gunmen opened fire, police said.