PHUKET — Police on the southern island of Phuket said Wednesday they have launched an investigation into the death of a 27-year-old Canadian resident.
Matthew Darling Richardson, a well-known figure in the island's mixed martial arts community, was found dead in the bathroom at his residence on Monday by his girlfriend and landlord, police said. While Richardson's partner suggested the MMA fighter committed suicide, the chief of Patong police said they haven't ruled out foul play.
"It could be suicide, but we have not concluded that for sure," Col. Tassanai Orarigadech said. "We have already sent the body to forensics for examination. We need to establish a clear cause of death before we can close the case."
The officer said the controversy over a slew of suspicious deaths at another popular island destination prompted investigators to be particularly thorough.
"We are afraid we will be compared to Koh Tao," Tassanai said. "People may accuse us of covering up the death as a suicide, so we have to be sure about what happened."
Tassanai said the Canadian's girlfriend told police she could not contact Richardson for an entire night, so when went to his home Monday morning. The door was locked, so she summoned the landlord and pried it open. They found Richardson hanged in the toilet, the colonel said.
Media reports say Richardson, who hailed from Toronto, regularly competed in boxing and MMA fights in Thailand, including the high-profile Thai Fight tournament. Out of the 33 recorded matches he fought, he won 22, including 16 knock-outs.
"Dear Matthew, may your soul finds its way and your body rest in peace. Hoping that our prayers still reach you brother," a Facebook user named Gabriel Rossi wrote in a public post.
One cause for suspicion was the manner of Richardson's death, Tassanai said. He reportedly hanged himself using straps of a bag slung over the bathroom door.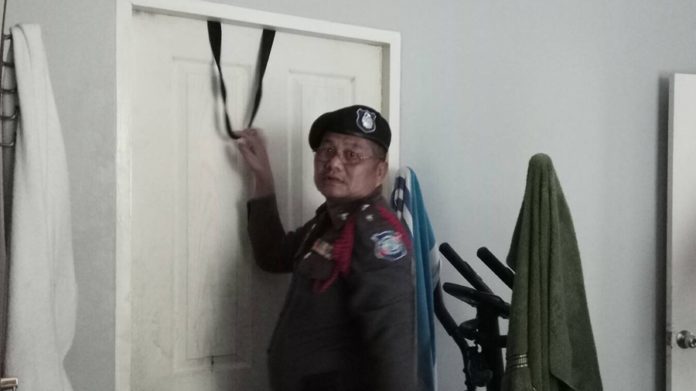 "It's strange, because he could have used a rope," the colonel said, citing his own experience in suicide cases.
And the body was already on the floor when police arrived at the scene, though Col. Tassanai allowed that the body could have fallen when the girlfriend opened the door.
Asked whether Richardson's family is suspicious about the cause of death, the colonel would only say police and his parents are in touch.
"His mother told an investigator that she just talked to him on the weekend," Tassanai said. "I will update them as soon as we have more information [about the case]."