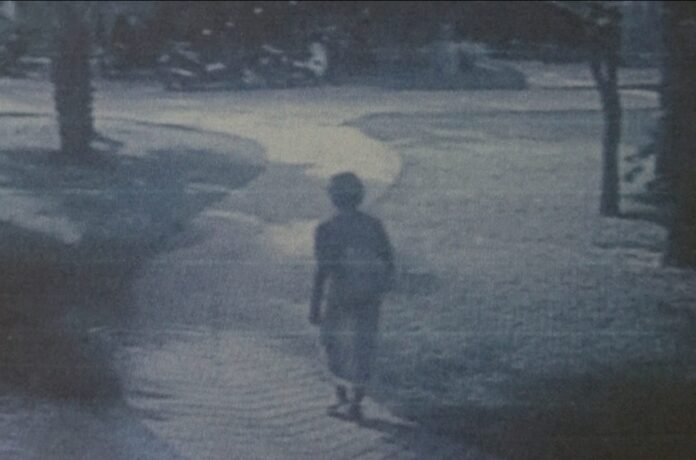 KOH TAO — Police on Koh Tao said Tuesday that CCTV footage shows a 30-year-old Belgian tourist buying a ferry ticket for the mainland in what they describe as the last known footage of her alive.
In a low-resolution image from a security camera, a person police said is Elise Dallemagne is seen at about 9am on April 21 walking past the Montalay Beach Resort less than a week before she was found hanged from a tree in a wooded area 200 meters away. The ticket was never used.
In late June, Dallemagne's family disputed the police ruling that her death was a suicide, prompting the authorities to reopen the investigation.
Read: Samui Times Faces Libel Charge for Labeling Koh Tao 'Death Island'
Deputy provincial police commander Preecha Kladsawad said the video shows Dallemagne after she bought a ferry ticket to Bangkok. He said it was the last image police have of her.
Police only released the one grainy image and not the full footage. Preecha said the video file belongs to the Montalay Beach Resort.
Another image taken later appears to show her buying the ticket about an hour earlier at another resort, called Poseidon Hotel.
"We do not have any security camera footage of the moment she walked into the jungle to hang herself," Col. Preecha said by phone Tuesday.
Although the image garnered attention in foreign media on Saturday, it had been released June 30.
Dallemagne last talked to her family on April 17 while vacationing on the island. She was found dead 10 days later on April 27. Her body was found half-eaten, according to her family. Her death was quickly ruled a suicide.
Her family disputed that, saying they suspected foul play. Police were forced to reopen their inquiry after the news gained attention on social media, where many found it suspicious, along with a string of deaths of foreigners on the island.
As of Tuesday, police were standing by their initial ruling that Dallemagne committed suicide, but the investigation is still ongoing.
"It's not case closed yet," Preecha said.
Related stories:
23-Year-Old British Tourist Found Dead on Koh Tao
Search Called Off for Missing Russian Woman on Koh Tao
Injustice Echos From All Sides Two Years After Koh Tao Murders