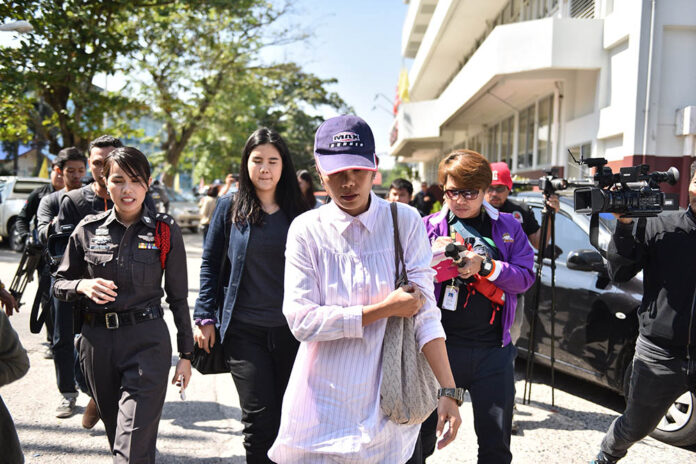 NAKHON NAYOK — The family of late cadet Pakapong Tanyakan was filing a complaint Tuesday afternoon in the province where he died at an elite military academy.
A day after refusing to meet with military representatives to discuss their son's death, Pakapong's parents and sister traveled to Nakhon Nayok province to file a complaint with police there.
They were still meeting with police as of 5.30pm and had not told reporters the details of their complaint.
Read: Army Invites Cadet's Family for Talk
Already under pressure to remain silent by the military, the family said they wanted to keep the matter private.
"I want to keep information to only among us and police for now," said Supicha Tanyakan, Pakapong's sister.
Nakhon Nayok provincial police commander Wattana Yeejeen said Pakapong's family had asked police to launch a criminal investigation into the events at the military academy that unfolded between Oct. 15 and 17, which they believe caused their son's death.
"We will gather evidence and witness testimonies," Maj. Gen. Wattana said Tuesday afternoon. "We will also interrogate doctors who inspected his body and medical experts."
Wattana declined to say whether the family is convinced that Pakapong has died from abuse.
"I'd let the family talk about it themselves. Our job is to gather evidence," he said.
Pakapong died in October at 19 from what the military described as "sudden heart failure" one day after returning to the Armed Forces Preparatory School from a break.
Pakapong's family lashed out during the weekend after an internal army investigation ruled it blameless in Pakapong's death. Investigators said he died of a heart condition and that abuse – which the family suspected – had not been a factor.
They said a broken rib found in the teen was caused when the cadet fell down eight flights of stairs.
The family first raised its suspicions last month after discovering Pakapong's body had been returned to them with a number of vital organs missing, including his brain and heart.
The military blocked a civilian investigation and the results of an independent autopsy completed earlier this month were kept secret.
Related stories:
Army Invites Cadet's Family for Talk
Family Cremates Cadet Son, Buries Autopsy Results
Organs Missing From Military Academy Cadet's Body