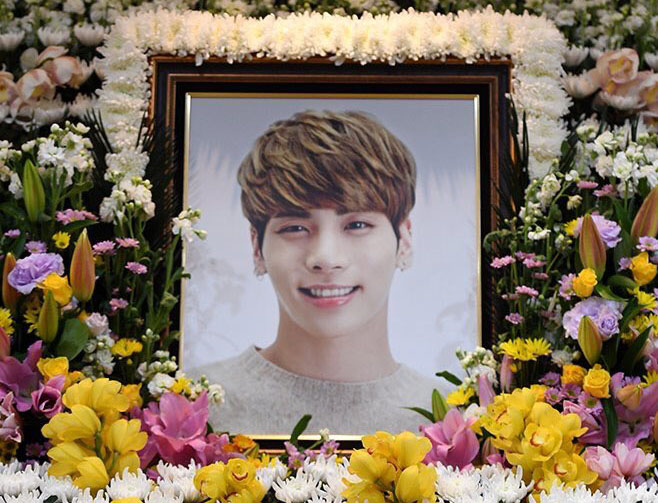 BANGKOK — Despair, grief and thoughts of suicide swept Thailand online Tuesday following the apparent suicide South Korean pop singer Jonghyun in Seoul.
The death of SHINee lead singer Jonghyun met a strong reaction in Thailand where K-pop boy bands are venerated by legions of fans. #RipKimJonghyun was the top trending Thai tweet Tuesday morning.
"I thought Bangkok and Seoul were far away, but Bangkok and the sky are even farther. Sky, take care of him. He didn't want to suffer on earth anymore," tweeted @Chanles4 with a picture of the sky.
Rest in peace 😔Thank you for everything 💕 #RIPKimJongHyun #SHINee pic.twitter.com/I1YQ0ZMwrc

— 😟🙁😟 (@Taehyung4lifeu) December 19, 2017
Some alarming messages led to worries of copycats.
One Thai Twitter user said her friend, a Jonghyun fan, had killed herself due to the news. The story was widely circulated on social media, especially the popular Drama-Addict Facebook page, but has since been made private and inaccessible. The original author has since acknowledged that the story was not true.
"Please don't do it. I know you're sad. I understand because I'm a fan too, but we have to help each other through this," @W_wa_wan sent wrote to fellow fans. "We can cry together, and some day you'll only have smiles when you think of your lead [singer]."
Jonghyun was found dead Monday evening in his Seoul apartment. He had lit coal briquettes in the room, a common method of suicide by carbon monoxide. He died at a nearby hospital.
"Were you not listening? Things you can overcome don't scar you for life… The life of fame was never meant for me," read a suicide note left at the scene, according to a translation by K-pop news site Koreaboo.
My heart is broken. Please rest well on the other side. Deepest condolences to ur family and you will be forever remebered. ใจหายมากๆ 😭 #RIPKimJongHyun

— TONG (@itteong) December 18, 2017
Jonghyun's depression prompted Thai fans to open up with their own stories of depression.
"I almost killed myself because of depression. I had many problems at home, I had no friends and nothing to hold me down. I was alone," Facebooker user Aii Aki wrote in the comments of a Drama-Addict post about Jonghyun. "But when I started liking Korean stars, it gave me the will to live. I had decided to kill myself, but one of my favorite artists kept me living."
South Korea has one of the highest suicides rates in the world. Former president Roh Moohyun committed suicide in 2009 and Lotte Group vice chairman Lee Inwon killed himself in 2016. Actresses Lee Eunju and Choi Jinsil committed suicide in 2005 and 2008, respectively. Singer U;Nee killed herself in 2007.
Suicide rates are lower in Thailand, which was ranked 46th in per capita suicides of 183 countries by the World Health Organization for 2017. South Korea was No. 10.
Jonghyun rose to fame in 2008 singing for SHINee, a band known for pop earworms such as hits such as "Replay," "Juliette," "Ring Ding Dong," "Lucifer" and "Sherlock." He also launched a successful solo career in 2015.
Related stories: