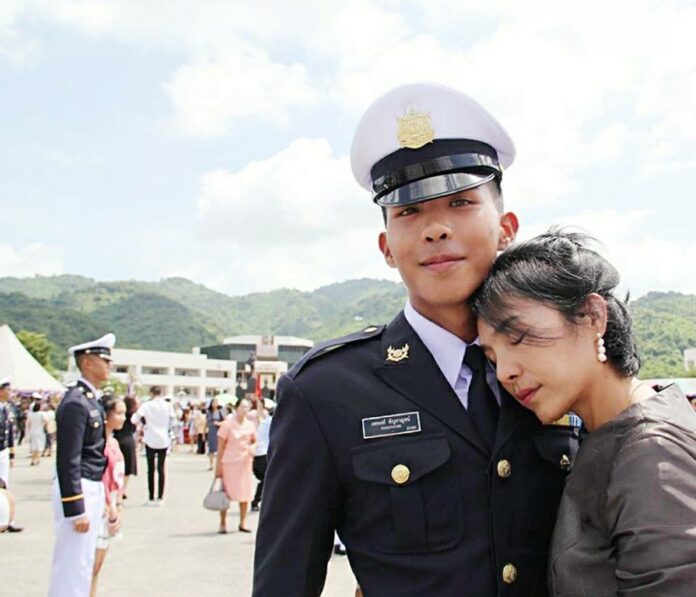 BANGKOK — The military said Monday it has invited the family of late cadet Pakapong Tanyakan to discuss the circumstances of his death after its own review found it shared no blame.
Pakapong's family lashed out after the army's investigation ruled Friday that Pakapong died of a heart condition and not any mistreatment. After reportedly not inviting the family to its news conference announcing the results, a military representative said he wished they could meet to explain all the facts to them in person.
"If Nong Meay's family does not have the faith or confidence in the committee's proceedings, I'd like them to come talk with us about what they don't have confidence in," Deputy Chief of Staff Chawarat Marungruang said. "We are willing to explain every point that they have doubt about."
Pakapong's parents have declined the invitation so far, Gen. Chawarat said.
On Friday the military announced the results of its investigation into Pakapong's death and maintained that he died of "sudden heart failure" and not a beating, as his family suspects.
While Pakapong's family pointed to a broken rib as evidence of possible abuse, the army said the fracture was due to the cadet falling down eight flights of stairs.
His family has not spoken to the media since the investigation results were announced, but his mother Sukanya took to Facebook to describe the inquiry as "shameful."
She also questioned why the military did not have security camera footage of the alleged fall.
Pakapong's sister Supicha Tanyakan said prior to Friday's news conference that she intended to take legal action against the military regardless of how its investigation concluded.
Pakapong died in October from what the military described as "sudden heart failure" one day after returning to the Armed Forces Preparatory School, an elite military academy, from a break.
Suspicions about his death became public in late November after the family took his body away in secret from a cremation ceremony to a private hospital where they discovered some of his internal organs went missing.
Following a public outcry, the military returned the organs to Pakapong's parents and said they had been kept for medical examination.