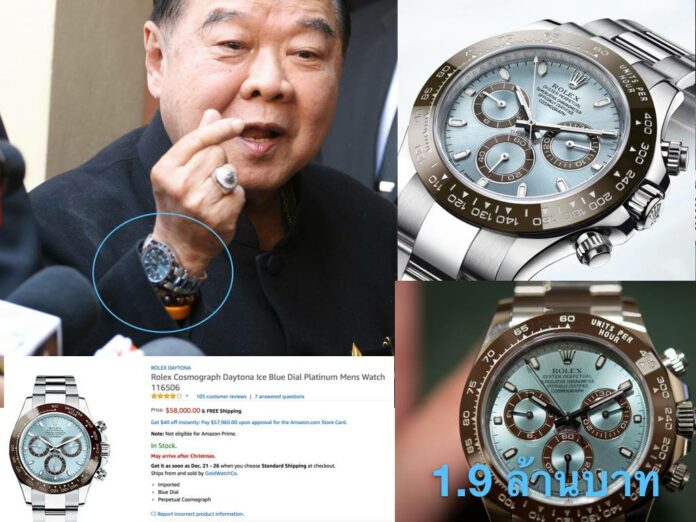 BANGKOK — A well-known anti-corruption campaigner called for Deputy Prime Minister Gen. Prawit Wongsuwan to be suspended until investigations into his unusual displays of wealth are completed after he was seen wearing another multi-million baht accessory.
Srisuwan Janya of the Association of Thai Constitution Protection issued a letter Monday urging junta leader Gen. Prayuth Chan-ocha to suspend Prawit, who's also deputy junta leader, until the National Anti-Corruption Commission has completed its work.
"People will then know whether this government is sincere in tackling corruption and reform or not," Srisuwan said.
Show and Don't Tell: Gen. Prawit Won't Explain His Bling Watch to Public
On Saturday, a third premium watch – what appeared to be a platinum Rolex Cosmograph – was spotted on the cover of a Matichon periodical from May, making for the third extravagantly priced timepiece Prawit, a career military man, has been spotted wearing.
The search for evidence of Prawit's haute horology began earlier this month after he flashed a Richard Mille watch – and bling diamond ring – with an estimated value of over 3 million baht at a photoshoot.
The problem for the 72-year-old deputy junta leader began when a check of his mandatory financial disclosures showed no mention of the watches.
He was given until Jan. 8 to clarify how he obtained the watch, whose sole distributor in Thailand sells at a starting price of at least 3 million baht.
Netizens scouring old photos of Prawit found it wasn't the only Richard Mille wristwatch. Days later, a Facebook page that crowdsources amateur investigations spotted him wearing a different Richard Mille in a file photo. It appeared to be model RM 30, which also costs at least 3 million baht. On Saturday, members of the same page, CSI LA, spotted a platinum Rolex Cosmograph Daytona. The watch sells in Thailand for just under 2 million baht.
An official involved in the case at the National Anti-Corruption Commission said Monday that the 30-day period for clarification could be extended 15 days or 30 days, if not more, at the commission's discretion. The employee spoke on the condition of not being named because he was not authorized to speak to the media.
He added that it would be counter-productive for Prawit not to clarify matters to the commission.
"It's his right to clarify but if he doesn't, he would be forfeiting his right," said the source. The source said other complaints about additional watches and rings could be combined into one case with the original case, now with the investigation office of the NACC.
Khaosod English tried to reach Secretary-General Worawit Sukboon for further information Monday but was told he was unavailable.
The commission is a nominally independent agency founded in 1999 as part of anti-graft effort in the newly enacted 1997 constitution. It is tasked with promoting transparency among political office holders and investigating corruption allegations.
Srisuwan, a prolific filer of public malfeasance complaints, is among those who have questioned the commission's independence.
"Many of the commissioners in this set are questionable. For example, the president used to be a police officer and served administrators in the current government directly," Srisuwan told Khaosod English back in February. "Therefore, whenever there's cries about corruption relating to powerful people in the government, there's a direct conflict of interest."
Its politically appointed chairman, police Gen. Watcharapol Prasarnrajkit, has ties with Prawit.
Srisuwan said that he does "not fully trust" Watcharapol's promise not to be involved in the probe.
The commission source said, with or without Prawit's clarification, the NACC would eventually decide whether to forward the case to the Supreme Court's Division for Political Office Holders.
If found guilty of not declaring some of his wealth, Prawit could be removed from the post of deputy prime minister.
"There is no time frame for handling the case, however," the official added.
This past Tuesday, Prawit was expected to explain that the first Richard Mille was loaned to him by a friend. The rumors, true or not, were met with derision and did not come to pass.
A prominent reporter with close ties to the military, Wassana Nanuam, wrote online Saturday that the watches were loaned by a very close businessman friend – who has just died. She cited no source for the information.