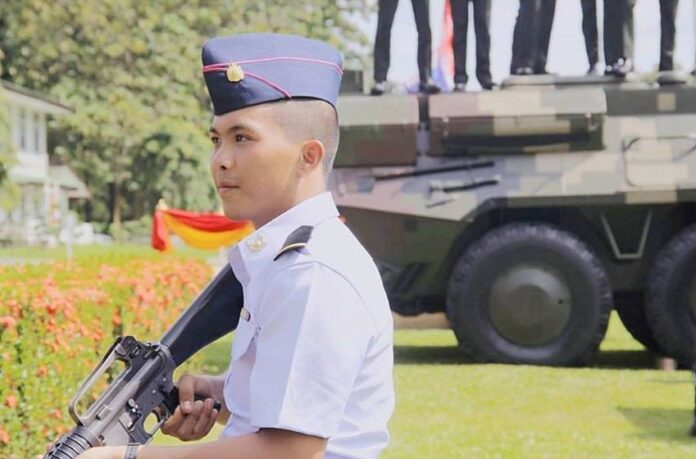 BANGKOK — An army-run inquiry is set to absolve the armed forces of any wrongdoing in the death of a 19-year-old academy cadet, a source said Wednesday.
According to the source in the committee, the military will repeat its previous explanation that Pakapong Tanyakan died of "sudden heart failure" and declare he was not subject to any punishment or beating as suspected by his family, who pledged today to take legal action.
Read: Family Cremates Cadet Son, Buries Autopsy Results
The final report will quote a number of fellow cadets, drill sergeants and medics as saying that Pakapong was in poor health, said the source, who claimed to have seen the papers and spoke anonymously because they are not allowed to talk to the media.
Military spokesman Nothapol Boonngam said the inquiry is not "100 percent" complete.
"It's mostly finished now, but it's not completed yet. It's not 100 percent yet," Lt. Gen. Nothapol said, adding that he does not know when the results would be announced to the public.
Nothapol declined to confirm whether the report would exonerate the military or rule out foul play.
"Please wait for the news conference by the armed forces," he said.
Deputy Chief of Staff Chawarat Marungruang also told reporters Wednesday the results are not yet public.
Pakapong's family, which initially was vocal in its criticism of the military's handling before going quiet in late November, signaled it was unlikely to accept such results.
Supicha Tanyakan, said she had no comment on the possibility the army will blame her brother's death on a heart condition.
"If they want to rule that way, that's up to them," Supicha said. "Each person is entitled to the right to defend themselves and prove their innocence."
She continued, "Everyone who reads the news can think for themselves about what it means … I still have my right to seek the truth."
The military investigation will not stop her from seeking legal remedy against the armed forces, she said. The law requires that police investigate "unnatural deaths," and Pakapong is no different, Supicha said.
"If they say the investigation is done, I'll wait for them to send me the results. They can't keep them. I need it for the [legal] procedure," Supicha said. "I have been discussing this with the police."
Pakapong died in October from what the military described as "sudden heart failure" one day after returning to the Armed Forces Preparatory School, an elite military academy, from a break.
Suspicions about his death became public in late November after the family took his body away in secret from a cremation ceremony to a private hospital where they discovered some of his internal organs went missing.
Following a public outcry, the military returned the organs to Pakapong's parents and said they had been kept for medical examination.
With all the organs returned, Pakapong's body was cremated on Sunday. Unlike the cremation ceremony held in November, when his classmates performed drills in front of an audience of high-ranking officers, there was no military honor for the dead cadet on Sunday.
Related stories:
Cadet Autopsy Incomplete Due to Chemical Shortage: Institute
Army Won't Allow Civilian Inquiry Into Cadet Death