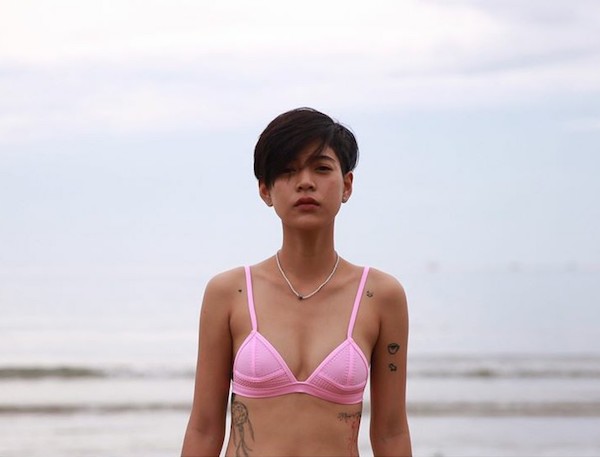 BANGKOK — A celebrity actress was charged with cyber crimes Friday for posting a short video that showed her boyfriend's genitalia, despite her insistence it was accidental.
In a case which for days has consumed media attention and sparked debate over use of law enforcement resources, Apinya "Saipan" Sakuljaroensuk and her boyfriend, actor Nantawooti Boonrapsap, met with police today. The police commander in charge of the investigation said Saipan has the right to contest her charge and prove to the court she had no intention of posting such a picture.
"She can bring in all the evidence," Col. Worawat Watnakornbanch, commander of cybercrime unit, said Friday morning.
Worawat said Saipan has been charged with violating Section 14 of Computer Crime Act, which outlaws any import of "pornographic" material into computer system. The charge carries a three year jail term.
Worawat said the force is also considering filing charges against netizens who shared the video.
"She may or may not have the intention to post it, but people who shared it definitely had the intention to do so," the police colonel said. "I want to warn people on social media about this."
Speaking to reporters after meeting with police, Saipan said she didn't intend to post the video and she deleted it as soon as she realized it was obscene.
The video was first posted Jan. 4 by Saipan to her Instagram account, which has about 900,000 followers. Some fans soon spotted a penis in the post, which they presumed to be that of her boyfriend, Nantawooti.
Saipan swiftly deleted the post and posted an apology, saying she wasn't aware that his genitals were in the video. However, screencaps from the clip went viral in no time, eventually drawing attention from police.
Saipan, 27, rose to fame as a co-host of popular teen talk show Strawberry Cheesecake. She later took up film career, and she's most famous for appearing in box office hits such as "Ploy," "Fin Sugoi" and "4 Romance."
Using the draconian cybercrime act, police routinely prosecute people for posting lewd photos of themselves or others on social media. 
The controversial Computer Crime Act was rewritten under junta guidance last year to give the state censorship power over anything online deemed against "good morality." Prosecution of Saipan is just the latest example of the law being brought to bear in cases of public morality, often going after women perceived to lack propriety.
Read: Social Media Opens New Fronts in Thailand's Culture Wars
On the same day Saipan met with police, a woman was also charged under similar offense for exposing her buttocks in an online ad to sell cosmetics.
In recent years, officers were dispatched to a concert to cover up a scantily clad singer, a woman was charged with obscenity over a motor show performance and women for stripping live on Facebook live.
Police action against Saipan drew numerous comments that criticize the force for appearing to be tough on petty issues.
"You always act quickly on nonsense issue, boss," user Coffee Nzz wrote in a news thread.
"Why are police so competent in this kind of thing? My shop got burgled. They left fingerprints, and I know who they are, but police still haven't caught them yet … Whenever they can get publicity in a case, they hurry to work on it," user Pronlii Ponsawan wrote in another thread.