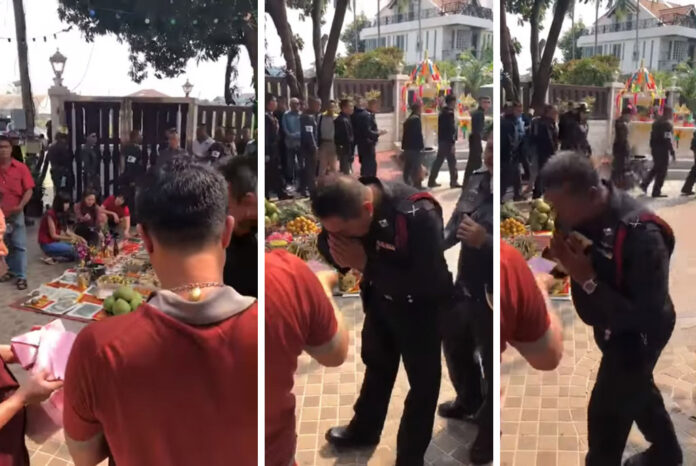 BANGKOK — Who doesn't love the heartwarming tradition of Chinese New Year – that of elderly relatives handing out ang pao, or red envelope money, to excited children?
More than 60 policemen were placed under investigation Monday for recently participating in such a ritual for the lunar new year. Handing out the lucky money on Friday was a police officer said to be chronically absent with a side hustle trading in amulets. He was also summoned to explain.
"We are investigating the issue," Boonyarit Rodma, a commander of the Bangkok police force, said.
Maj. Gen. Boonyarit declined to say whether there was anything untoward about dozens of uniformed officers lining up to receive envelopes of money from a man clad in red in a video that went viral online.
"Please wait for now. If I say right now if it's right or wrong, when the investigation team hasn't completed their work, I might be accused of influencing their decision," he said.
The man was later identified as 2nd Lt. Manas Termthanasak of the Special Branch Police. The division, which oversees intelligence and espionage operations, has summoned him to explain the source of his money for the Chinese New Year extravaganza.
Media reports quoted police sources saying Manas has missed work more than 96 times in the past two years.
Bangkok police commander Charnthep Sesawet told reporters Monday that the envelopes contained 500 baht each. He said the gifts do not break any law because the amount is under the 3,000 baht threshold dictated by anti-graft regulations. An investigation is necessary nonetheless, he said, to see if there were any disciplinary violations.
Boonyarit said only about 20 of the 60 cops have been identified so far.
The incident happened just days after Bangkok police warned officers not to take ang pao money from members of the public. They warned that officers taking cash might be perceived as bribery.
But police spokesman Krissana Pattanacharoen said it's okay for police to exchange money among their own ranks.
"Whether you are a policeman or not, this is a festive time. Even family members give each other money," Col. Krissana said. "People who showed up to get the money know what's appropriate and what's not. It's not against the law. But for the sake of fairness and transparency, we are investigating the issue."
Who is Manas?
Asked why a low-ranking police officer such as Manas could afford to give away the money, Krissana said he could have earned it on the side.
"I don't know, maybe he has private businesses," Krissana said. "You have to ask the Special Branch Police."
In 2006 Manas was suspended after police raided a gambling den and accused him of running it. He was later cleared of any wrongdoing and reinstated.
Investigative news site Isra reported today that Manas owns at least three businesses including a firm that sells amulets. He's also listed as the board member of six private companies.
Manas was previously linked by the authorities to the Redshirt movement, whose members support the elected government overthrown in 2014. He was among hundreds of people summoned for "attitude adjustment" sessions at army bases in the wake of the putsch.
The deputy commander of the Special Branch Police declined to discuss Manas and the order for him to appear, saying he doesn't know him.
"I don't know anything about him," Gen. Attachai Duangampho said. "There are more than 1,000 officers here. I can't know them all."
The investigation comes as the police force is roiling in a scandal over whether they turned a blind eye to a brothel that engaged trafficked minors. A former police commissioner was forced to admit that he took 300 million baht from its now-fugitive owner.
Under questioning, Gen. Somyot Pumpanmuang said the money from businessman Kampol Wirathepsuporn was merely a personal loan that he had already repaid.
Related stories:
Why Bangkok's Fun is Ending at Midnight Again