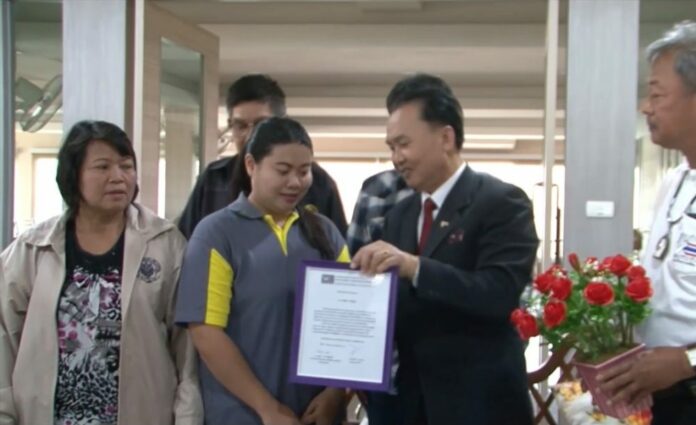 BANGKOK — Two high-ranking officials were suspended while their alleged roles in pilfering funds meant for the country's poorest is investigated, a deputy prime minister announced Sunday.
The secretary of the welfare ministry and his deputy were removed from active duty in the wake of revelations that officials stole millions of baht meant for indigent Thais. Deputy Prime Minister Chatchai Sarikulya said they were suspended on Friday and vowed an impartial investigation into the scandal, though he also asked the media to "be patient."
The two officials were identified as Puttipat Lertchaowasit and Narong Kongkam.
The alleged graft came to light recently when a former intern in the Ministry of Social Development and Human Security blew the whistle. Panida Yospanya, 22, said provincial officials in Khon Kaen forced her to forge documents that allowed them to pocket 2,000 baht to 3,000 baht in funds per welfare recipient. She estimated her superiors and others defrauded the state of up to 7 million baht.
Funds from the program are meant for citizens living in poverty and HIV patients. The program was started in 2009 as a government measure to assist those in the lowest rungs of the economic ladder. It is unrelated to the military government's more recent policy to subsidize living costs for eligible poor.
Panida, who studies at Mahasarakham University, said she refused to cooperate and quit her internship. Khon Kaen's provincial governor said she's now in a witness protection program.
After her story went public, several former employees backed up her accusations, prompting anti-graft agencies such as the Auditor General's Office and the Public Sector Anti-Corruption Commission to launch an investigation into the alleged fraud. Inspectors were also ordered to review the books kept by all welfare offices nationwide.
Similar allegations have since surfaced in Bueng Kan, Surat Thani and Chiang Mai provinces. Junta chairman Prayuth Chan-ocha said Friday the government would take the matter seriously.