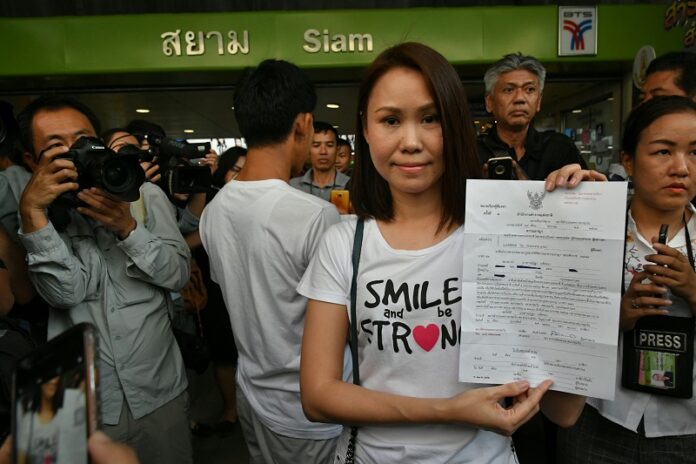 BANGKOK —  Hundreds of netizens are calling for a famous pro-democracy activist to be raped because she allegedly said she would not support death penalty for rapists.
Nuttaa "Bow" Mahattana, the target of the threats, said Friday that she's the victim of a social media hoax as she has never said such a thing. But that has not stopped pro-junta Facebook pages from spreading the claim. Nuttaa said emotions are running high after debate over the death penalty resurfaced following Thailand's first execution in nine years earlier this week.
"I understand that some people are falling for hoaxes easily because their emotions are now full of anger," said Nuttaa, who's facing numerous criminal cases for her defiance of the junta. "When people are dominated by emotion, they cannot use reason."
Read: Citizen Bow and the Making of an Anti-Junta Protest Leader
In a Wednesday post, a troll Facebook page posted a picture of Nuttaa and quoted her saying, "If I'm raped, please don't execute the perpetrator." Less noticeably, it said below, "Bow didn't write this" along with commentary.
Regardless of the disclaimer, the post was seized upon by a toxic online culture sharpened by disregard for the truth.
"Bow gives it away for free. If Bow is raped, don't execute the perpetrator. What a saint. Even hookers charge money," read the post by the page "Beast News," which reproduced the image without the disclaimer. The admin didn't respond to messages seeking inquiry as of publication time.
The post was shared at least 11,000 times as of Friday afternoon and drew about 1,500 comments. A vast majority called for the activist, a mother of one, to be sexually assaulted.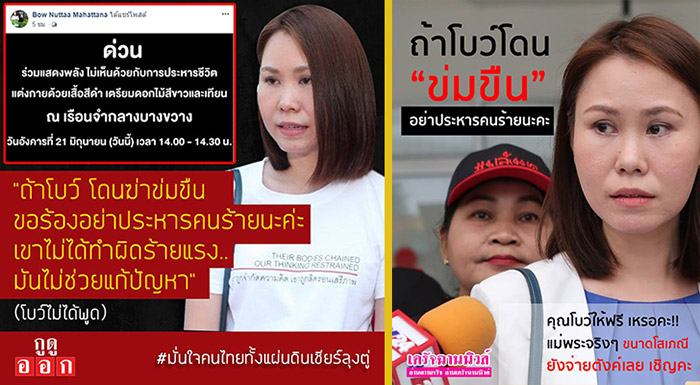 "If I had money, I will hire a detective to search for her home. Once I know where she lives, I will hire 24 men to rape her," wrote Napas Piampicha – a woman – in a comment.
Another woman, Jirayu Yu, chimed in, "Rape her son and her mother first, then rape her later. Do it brutally and savagely."
"Someone please rape this aunty, and slit her throat after. She won't take action," Nam'panch Zii'z wrote.
The incident came at a time debate of capital punishment was reignited after Bang Kwang Prison executed a 26-year-old man convicted of stabbing a high school student to death in 2012. It was Thailand's first execution in nearly a decade of de facto moratorium.
While Nuttaa said she opposes the death penalty on human rights grounds, the activist insisted she never made the comment alleged by the Facebook page. She said she merely shared a story about Amnesty International's protest at Bang Kwang Central Prison on Tuesday.
She also noted that other public figures who wrote at length against the death penalty didn't face the same backlash.
"Other people who wrote about it didn't get anything. The people who are really active didn't get anything," Nuttaa said. "I got this much because I campaign for democracy."
Fabricating a quote for someone in a damaging way qualifies for libel prosecution, warned a police officer with a long experience of handling defamation cases.
Col. Olan Sukkasem, who headed cybercrime prosecution for more than nine years, said netizens should check facts before sharing something on social media that may end up as a hoax that hurts other people.
"Once you've done it, you can't claim you didn't intend to cause damage," Olan said in an interview. "It's like speeding. You might not mean to go over speed limit. Maybe you were having a good time. But if you get caught, you can't claim a lack of intent."