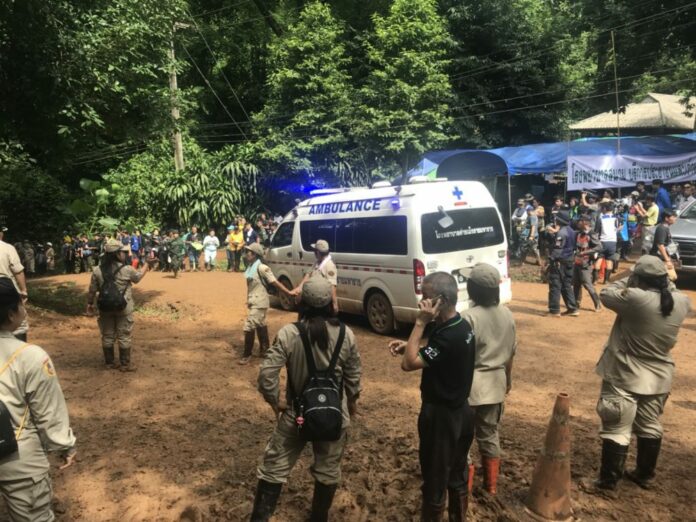 CHIANG RAI — Chaos erupted in the cave where 12 young footballers and their coach are missing after a rescue worker was said to have been shocked by a short-circuiting water pump.
Panic struck the site of the ongoing rescue effort, which has already been hampered by mud, rain and relentless flooding of the 10-kilometer deep Luang Cave in Chiang Rai province. An hour later, the provincial governor said the rescue worker only fainted.
Friday marks the sixth day of the search for the group of 12 boys and their football coach.
Word of an electrical incident prompted workers to cut electricity to the cave before it was restored just before 4pm.
A paramedic said one rescue worker was affected and in safe condition.
Various machines were operating in the flood-prone cave, including water pumps, lighting devices and radio equipment, leading to fears of electrocution. Just yesterday, Chiang Rai Gov. Narongsak Osottanakorn told reporters he had instructed rescue workers to be careful when handling their equipment because of the hazard.
#Live (ต่อ) เกิดเหตุไฟช็อตในถ้ำหลวงนางนอน สแตนบายรถพยาบาล 4 คัน ลำเลียงคนเจ็บ

โพสต์โดย อีจัน เมื่อ วันศุกร์ที่ 29 มิถุนายน 2018
ไฟฟ้าในถ้ำรั่ว มีเจ้าหน้าที่ได้รับบาดเจ็บ แต่ตอนนี้ทุกคนปลอดภัย

โพสต์โดย อีจัน เมื่อ วันศุกร์ที่ 29 มิถุนายน 2018