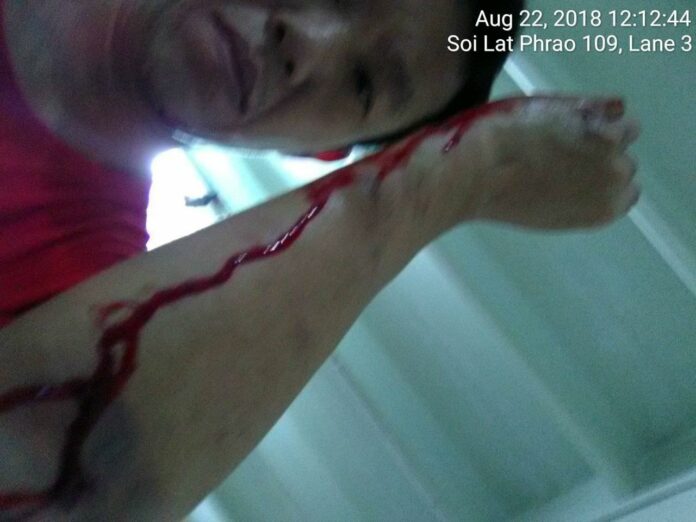 BANGKOK — An anti-junta activist who's come under frequent assault said he was left bloodied Wednesday by a group of men who attacked him with a sharpened wooden plank.
Ekachai Hongkangwan said three men on motorcycles ambushed him in front of his home at about noon as he was returning from protesting deputy junta leader Prawit Wongsuwan. He said he was struck four times, and many witnesses saw the attack.
"It's getting more violent, and the NCPO isn't doing anything," Ekachai said in a later interview, referring to the National Council for Peace and Order, the formal name of the military junta which has been in power since staging the 2014 coup. 
The NCPO's spokesman could not be reached for comment as of publication time.
Ekachai said one man swung the weapon at his face but he was able to block it with his arm. He posted photos showing blood running down his arm and neck.
Ekachai, who's made headlines with his one-man protests against the junta, has blamed agents working on behalf of Prawit, whose luxury watch scandal Ekachai has continued to protest. On Wednesday repeated accusations that the junta is behind the attacks.
Although it was not the first time Ekachai has been assaulted by mysterious individuals he says are acting on behalf of powerful figures, it appeared the most serious so far.
Unidentified assailants doused him with foul-smelling fermented fish earlier this month as he was making his way to protest at the Government House. In January, a man named Rittikrai Chaiwannasan also tried to punch Ekachai but was blocked by police.
Rittikrai succeeded in another attack four days later, for which he was later fined 10,000 baht.
Additional reporting Pravit Rojanaphruk
Update: This story has been updated with additional information.