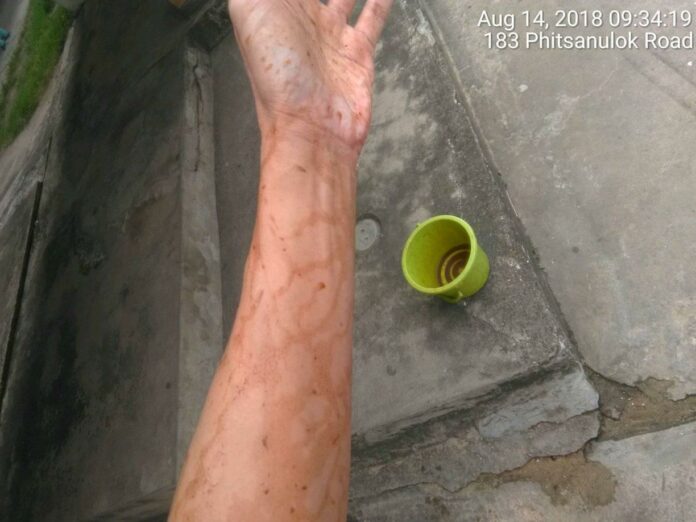 BANGKOK – A pro-democracy activist on Tuesday said unidentified assailants threw fermented fish at him while he was walking to conduct a one-man protest outside the Government House.
Ekachai Hongkangwan, who has kept up pressure on the junta's No. 2 to explain where he got his multi-million baht watch collection, said he's filed a complaint with the police. The activist said two attackers wearing motorcycle helmets threw a bucket of foul-smelling pla ra on him at a bus stop before speeding away on a motorbike.
Although the identity of the assailants was not immediately clear, Ekachai said he suspects they did so on behalf of deputy junta chairman Prawit Wongsuwan, who Ekachai believes wants to silence his near-daily protest.
"I'm not saying Khun Prawit is behind this. It was probably his underlings," Ekachai said. "They were probably angry at me for messing with their boss."
Ekachai said police informed him they would try to locate the attackers and charge them with assault.
Through numerous stunts and protests, the 43-year-old activist has been urging Gen. Prawit to explain the luxury watches which he did not declare in a mandatory report of his assets. The general said he borrowed them from a friend who is now dead.
It's not the first time Ekachai experienced an attack seemingly related to his activism. In January, a man tried to punch Ekachai near Government House but was blocked by police. He succeeded in another attack four days later.
"I think I will change my route of travel," he said. "But even if I change, they will know where I am anyway, because security forces track me all the time."