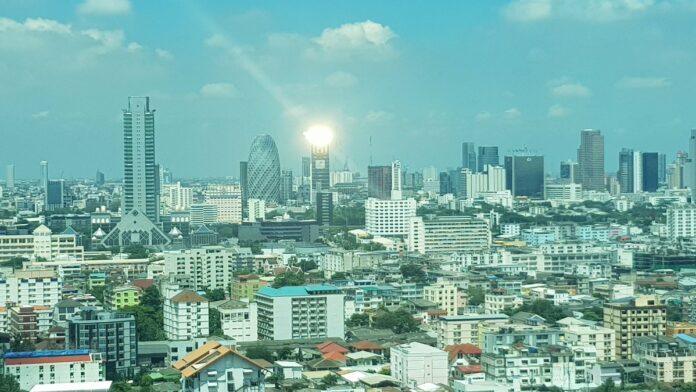 BANGKOK — A commercial bank on Wednesday said it would look into complaints its office tower is blinding residents.
SME Development Bank, whose headquarters are in Bangkok's Phaya Thai business district, promised a remedy after pictures of the sun reflected from its windows went viral on social media.
"We apologize for the inconvenience that the reflected light troubles you. We are sorry," the bank wrote in a reply to one of the complaining residents. "We will call a meeting to find ways to solve this."
The issue was first brought to attention when Twitter user To_moddang wrote to popular news site JS100.
"@Js100radio I don't know what building this is. It's next to Pearl Building, Phahon Yothin," To_moddang tweeted Tuesday. "It reflects sunlight causing people in buildings on the Ratchayothin side to suffer. Our eyes and heads are aching. Very dangerous!"
A city planning official told the media Wednesday that the 24-year-old building would be inspected to see whether its materials are indeed causing harm to the public. If so, the bank must fix it or face closure, department head Noppadol Chaipanya said.
The issue was taken less seriously on social media, where it didn't take long for someone to compare it to the flame-wreathed tower of Barad-dur from the "Lord of the Rings" films.
ตามกฎหมายกำหนดให้อาคารสูง ที่มีกระจกฉาบปรอท ต้องสะท้อนแสงได้ไม่เกินร้อยละ 30 เท่านั้น#อาคารสะท้อนแสง #ดวงตาแห่งเซารอน #จส100 #ไบรท์ทีวีช่อง20 https://t.co/tmrCljrqIt

— ไบรท์ทีวี ช่อง 20 (@BrightTV20) September 25, 2018