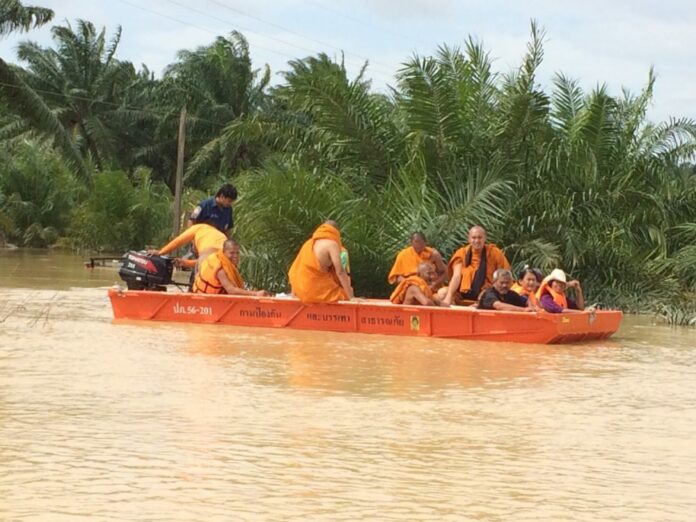 BANGKOK — More than blaming the flooding which has devastated the south just on record rainfall, those familiar with the issue say mismanaged water resources and unplanned development are to blame.
Long before the floods jammed highways and killed at least 76 people, the conditions for flooding were made possible by unchecked urban sprawl, wetlands destruction and poorly conceived infrastructure projects, a city planner, environmentalist and local flood relief volunteer said Thursday.
Read: Fresh Monsoon Brings Triple-Whammy to Flooded South
The director of Greenpeace Thailand said deforestation is often wrongly blamed, when well-intentioned but poorly considered infrastructure such as dams are at fault.
"Dams don't help in flood situations," Tara Buakamsri said. "In fact, water management structures such as dams built for flood relief actually exacerbate the flooding."
Dams eventually reach their capacity and the water must be released. When that happens, there are no systems to warn those living below them.
The water is released through spillways "without regard for the people downstream," Tara said. "Instead, they do it to maintain the dam's condition."
Development, not just urban but agriculture, is also to blame.
Rangsit Tongsamak, a Nakhon Si Thammarat physician who heads a flood volunteer relief group, said deforestation isn't replacing jungle with concrete – but a monoculture of commercially grown trees, such as rubber and palm.
"The jungle's various layers of trees do their job in absorbing rain," Rangsit said. "But now, some jungle is being replaced with commercial trees like palm or rubber, which only offer one layer of tree and absorb less water."
Tara added that urban sprawl is also eroding important wetlands and natural water basins.
"In the past, these places could support the drainage of extra water. But if the use of the land in these places changes, then they can't do their job, so the whole ecosystem is changed," he said.
Orasa Jansidan, a planner with Songkhla's provincial Public Works Department, said the slow drainage issues stem from disorganized urban planning.
"Natural disasters are unavoidable, but what we can control is what happens after the rain stops," Orasa said.
But people keep building "whatever they want, wherever they want," she said, without any mind for mitigating disaster.
"The issue of city planning and zoning only came up after many cities in Thailand were already built, and usually it's done without natural disasters in mind," Orasa said. New city planning laws also do not apply retroactively, meaning past mistakes cannot be undone.
Cities built without consideration for flood drainage showed their faults under this year's unusual rainfall, Orasa said. In Phattalung, for example, where flooding has been quite heavy, communities built between Songkhla Lake and the Gulf of Thailand were unable to drain water both bodies of water, Orasa said.
"Cities in the Netherlands where I visited deal with water drainage really well," Orasa said. "As for cities in Thailand, well, I can't really say."
Related stories:
More Floods Feared in South as 1.6 Million Affected
As Southern Flooding Eases, 22B Baht Price Tag For Repairs
More Flash Floods Expected as North-to-South Road Reopens
Malls, Airport Closed as Worst Flood in Decades Hit South
Absurd News Parody Brings Smiles to Flood-Ravaged South (Photos)