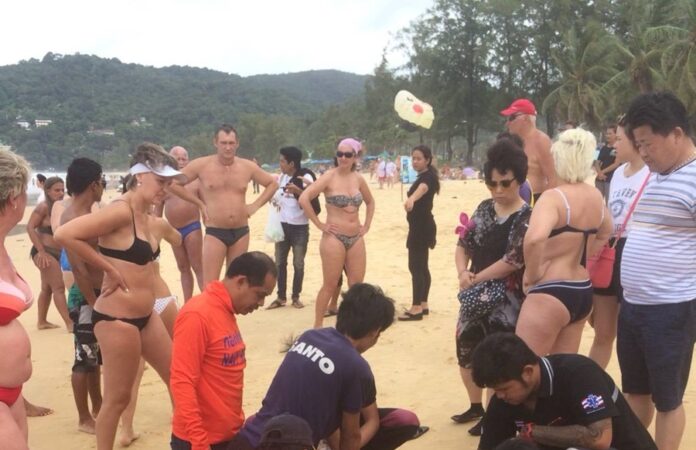 PHUKET — A senior official on Phuket said Monday the loss of the island's regular lifeguards was not to blame for the drowning of a Russian tourist at Karon Beach, where seven others had to be rescued from the raging seas.
The tourist, identified as Oleg Parshukov, was the second to die on the island's beaches since a contract with lifeguards was terminated following a contract dispute. The lifeguards were replaced with government workers and naval personnel and resulted in a shortage of guards on some beaches.
Watcharin Pathomwattanapong, provincial government chief, said there were substitute rescuers at the scene, but the Russian tourist ignored the red flags posted the beach and ignored warnings from the guards.
"We saved many people, but one was beyond all reasonable measure," Watcharin said by phone. "He was very stubborn. He argued with the lifeguards."
Read: Chinese Tourist Drowns After Phuket Ends Lifeguard Service
Capt. Channarong Prakongkua of Karon Police Station said 42-year-old Parshukov died on the way to the hospital.
In lieu of the guards previously provided by Phuket Lifeguard Service, the provincial authority has posted naval personnel and volunteer rescuers on Karon Beach, Watcharin said, adding that there were seven naval officers stationed close to where Parshukov died.
Seven more tourists were saved Sunday from drowning by the substitute lifeguards, Watcharin said.
But Channarong said the number of guards was not enough to oversee the entire beach.
"There were personnel there to help, but there were many tourists and few personnel," the police captain said. "Additionally, the sky was overcast many days. Yesterday the sky cleared for the first time, so many tourists came to the beach."
After nearly a decade of service, operator Phuket Lifeguard Service pulled its staff from all beaches on Oct. 1 because they would not accept a new contract with a slashed budget proposed by City Hall this year. The service said their budget has been gradually cut for years and could no longer sustain reliable service levels.
Provincial administration head Watcharin said they are filling the gaps by hiring 250 new lifeguards directly without going through the guard association. Watcharin said the new recruits will receive higher pay than what they earned under the operators.
He believes all positions will be filled by December, just in time for the peak tourism season. Asked if tourist safety is at risk until then, the official said the monsoon season, which is associated higher swimming fatalities, will soon end anyway.
"After Oct. 20, the seas will be calm," Watcharin said. "They won't be violent like the monsoon transition period."
Related stories:
Chinese Tourist Drowns After Phuket Ends Lifeguard Service
Tourist Drowns on Phuket Lifeguard Service's Last Day
Phuket Lifeguards Say Gov't Withdrew Contract Offer
Phuket Lifeguards Threaten to Withdraw From Beaches