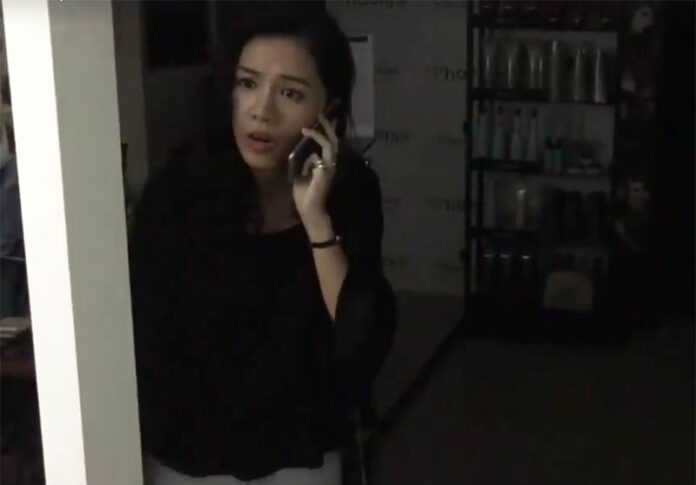 BANGKOK —  It took two diplomats, an online culture lesson and a stuffed animal to smooth a Pacific Rim feud that flared up between two Taiwanese women the Bangkok salon owner they refused to pay.
Two tourists who ignited a firestorm of internet shaming after they got into a fierce argument at a downtown salon that escalated into them being shut inside over 250 baht wash jobs returned to the salon Sunday to apologize for misunderstanding.
"We want to apologize. We just know now that it's a different culture," one of the women said through an interpreter dispatched by the Taiwanese mission in Thailand.
The encounter made headlines in Taiwan, where one of the women is a television news anchor.
Help with resolving the fracas came from the same place that fanned its flames: social media, a platform for frequent outrage over Chinese tourist behavior. There, a video clip of the Saturday encounter in Siam Square racked up millions of views – 8.5 million as of Monday – and launched a debate about cultural expectations.
The dispute came after the two fashionable young women refused to pay the Phoenix Siam Salon because the water used to wash their hair was cold. Salon owner Jax Phoenix wasn't having any of that.
In the clip Jax later uploaded to her salon's Facebook page, one of the customers declares she will not pay and asks that her friend's wash be discounted. The scene descends into a confused mix of broken English, Thai and Mandarin Chinese. Jax at one point slaps a phone out of one of the women's hands and eventually orders them to stay seated inside while she closes the shop. They finally decide to pay.
Footage posted Saturday night of the dispute unfolding within the Phoenix Siam Salon in Bangkok.
But as two Taiwanese Chinese-language teacher expats who are fluent in Thai would point out, the conflict arose from a misunderstanding by the two customers.
The teachers, Jer and Bo, explained that in Taiwan it can be okay to refuse to pay for unsatisfactory services. They helped translate what the women were saying and what one of them, a television news anchor in Taipei known as Vivi Huang, wrote about the incident.
They said the Taiwanese journalist was displeased the shop told her it would cost 350 baht instead of the 250 baht when she booked the appointment, as well as the fact that the air conditioner was broken and the water cold.
"I didn't know that in Thailand they wash hair with cold water, but now I know. I have to apologize," Huang wrote Sunday.
"When you leave your country, you have to know the cultures of other places instead of doing whatever you want. You're in another country, so you have to respect other cultures," Bo said to his Taiwanese viewers along with an idiom akin to "When in Rome… ."
A Taiwanese Facebook user commented on the video that the incident had made national headlines in Taiwan in one of many comments expressing shame over what happened.
Some said the "unsatisfactory service" excuse was a bit of a stretch, however.
"It is only on very rare occasions do we see bills being completely waived for customers, unless it is over something totally unacceptable," user Raina Chou wrote.
"I have never experienced or heard from any of my friends getting a complete refund," Raina said. "Please everyone, don't let these two negatively affect your opinion of Taiwanese. Most of us are friendly and not spoiled like they are."