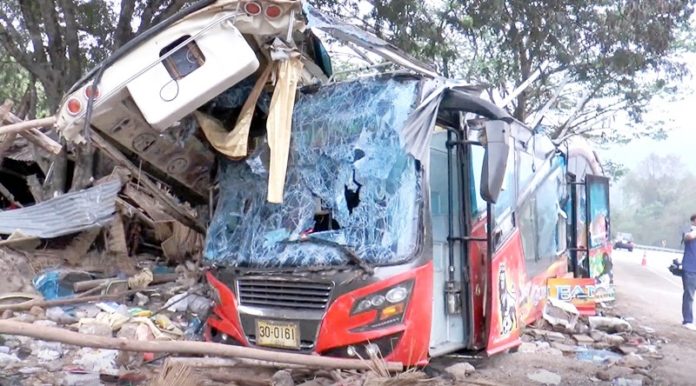 NAKHON RATCHASIMA — A tour bus crashed Wednesday night on a remote road in Nakhon Ratchasima province, killing at least 18 passengers and injuring dozens of others.
The double-decker bus went over a traffic island on a road in the Wang Nam Khiao district after its brakes reportedly failed and clipped an 18-wheeler. Eighteen people died at the scene and more than 30 were injured, according to local police chief Col. Meechai Kamnoedprom.
The bus was carrying 47 tourists from a beach in Chanthaburi province back to their hometown in Kalasin province. The deceased included 13 women and five men, according to Capt. Jirawat Prayoonpan of Wang Nam Khiao police. The driver of the truck was unhurt.
Update: 'Death Bus' Driver Was Using Meth
The survivors told police they heard the driver shouting, "Brakes out!" before the vehicle swerved, hit the traffic island and crashed.
The bus driver fled the scene of the accident, according to Jirawat. Police are investigating.
Update: This story was revised with updated information from the police that the bus did not collide with a truck, as originally stated. It merely clipped it as it left the road.