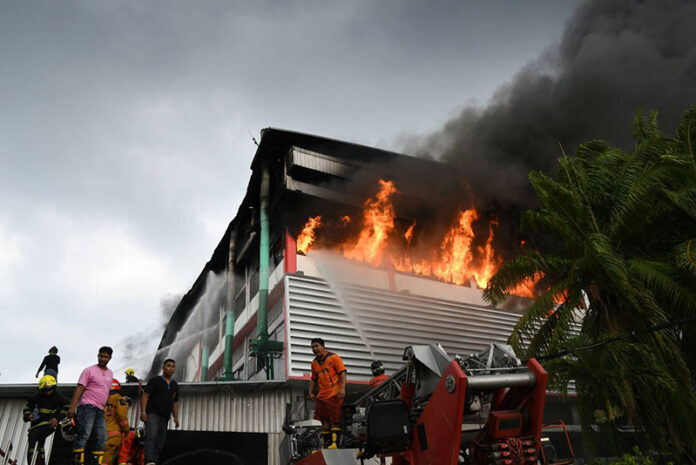 BANGKOK — After three hours of fighting a fierce factory blaze, firefighters late Friday afternoon allowed a raging fire to consume a helmet factory in the capital's southwest.
After a long battle, teams from about 30 fire trucks contained the fire that began earlier at about 2pm at the SYK Autoparts Import-Export Co. Ltd. Though they kept flames from spreading, firefighters decided to let the inferno consume all the toxic materials inside – paint, paint thinner and plastic – which is expected to burn late into the night.
"Around a 1,000 employees, both men and women had to flee in chaos for their lives," Weerachai Atanong, a 60-year-old security guard told reporters.
Employees Nakharin Thaona, 41, and Prayoon Kamnokhoom, 43, suffered burns and fainted from smoke inhalation and were rushed to Bangpakok 9 International Hospital.
The factory, a five-story complex connected over 3 rai (4,800sqm) of land, produced Index brand motorcycle helmets.
Weerachai saw the fire and smoke start on the first floor of the complex's rear building in an area where the helmets are colored and sorted before it spread to all the floors through the ventiliation system.
"At least 10 million baht in damages was done. I am also concerned that the building is now damaged due to the long duration of the fire," Col. Apirat Poomkumarn of Tha Kham police said. Apirat added that the factory owner was out of the country but would be brought in for questioning.
This is a developing story and may be updated without notice.