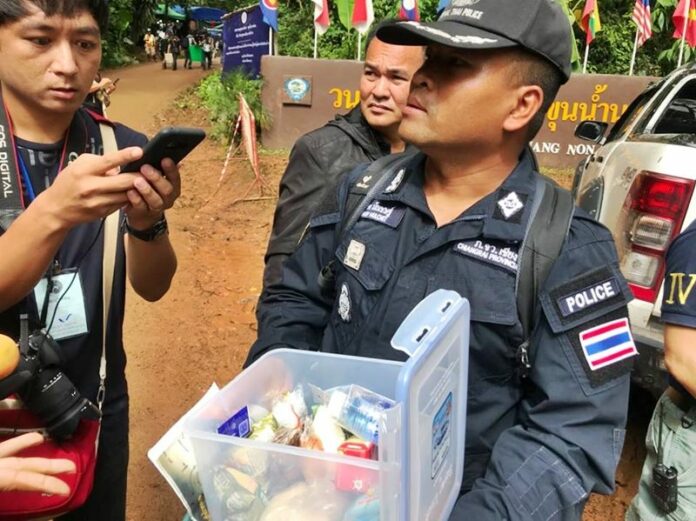 CHIANG RAI — "If you receive this, please respond quickly," the note read. "Tell us where you are on the map, everyone here will do their best to rescue you."
Boxes containing food, drinking water and notes were dropped into the Luang Nang Non cave Friday as hopes fade and exhaustion mounts in the effort to rescue the dozen young football players and their coach who've been missing six days.
Worried that those missing face starvation if still alive, people dropped a total of 20 plastic containers with milk, drinking water, bread, pork and sticky rice into an upstream opening of the cave this morning. The search continues.
Apart from the food, maps, notes and pens with blinking lights were also placed inside the boxes in a hopeful bid they might reach the group, who could have sheltered in an unflooded portion of the extensive cave complex.
Prime Minister Gen. Prayuth Chan-ocha arrived on the scene this morning to encourage the families and relatives of the missing not to give up hope.
Related stories:
Water Reaches Near Cave's Entrance Where 13 Missing
Fever of Hoaxes, Superstitions Deluge Cave Rescue Frenzy
US, UK Teams Join Search for 13 Missing in Cave
Spirit of Mythical Princess Looms Over Thai Cave Crisis