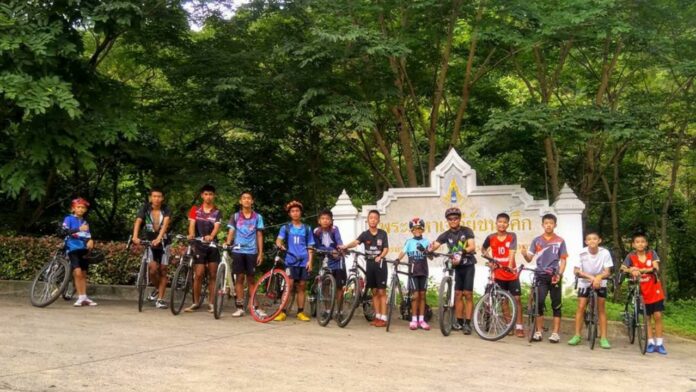 CHIANG RAI — Police said Tuesday they will look into whether a 25-year-old coach of a youth football team could face legal action for leading them into a cave complex where they were stranded 10 days.
Col. Komsan Saard-an, chief of Mae Sai Police Station, declined to confirm or rule out charges of negligence against Ekapol "Aek" Chanthawong, who led the group of 12 boys on the excursion into the Tham Luang Nang Non complex.
"I decline to answer this issue for now," Komsan, whose station has jurisdiction over the cave area, said by phone. "We have to study the matter carefully first."
Ekapol and 12 members of the Wild Boars Academy football team went missing after they entered the sprawling cave on June 23. The coach and the boys, ranging in age from 11 to 16, were found safely by rescue divers Monday night.
The incident has led to speculation over whether Ekapol should face legal consequences for misjudging the safety of their expedition.
"What's important is the kids should know they did wrong by making their parents worried, and the whole country had to rescue them," one popular Facebook page wrote. "And the coach, too. He should be more careful when taking kids of other people to places. He had a duty to be responsible for those kids."
But a criminal law attorney said Ekapol will likely escape any charges because it appeared he did not intend to put the children in danger.
"In my opinion, he had no intent. Before they went inside, the rain hadn't started yet. And they went there often, so they must have thought there wouldn't be any problem," lawyer Ananchai Chaiyadech said by phone. "The law also looks at intent."
The Wild Boars are known for going on adventure trips together, like cycling on mountain roads, exploring caves and swimming in waterfalls, according to their families.
Chiang Rai Gov. Narongsak Osatanakorn told reporters Tuesday the operation to retrieve the 13 footballers continues, giving no information when or how they will get out of the flooded cave.