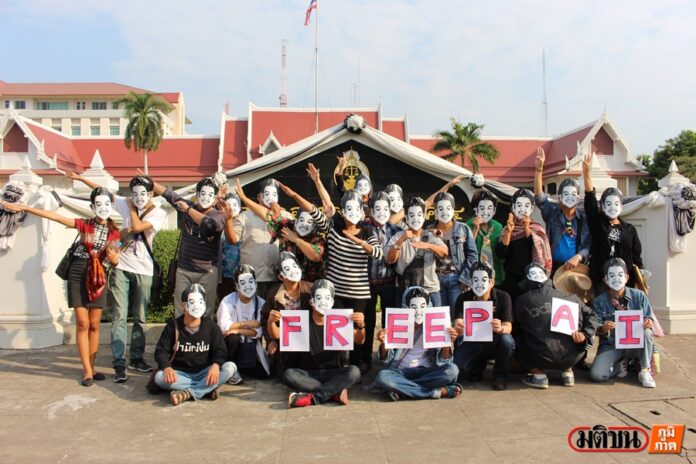 BANGKOK —  On Monday, a court fined prominent transparency activist Srisuwan Janya 700,000 baht. He was found guilty of the same offense that in the past week alone has seen a former politician given a suspended jail term and a media agency cowed into self-censorship.
The same law has also in recent days been cited as for blocking members of the public from gathering in support of a former premier who's about to hear a historic verdict that could send her to jail for 10 years.
Contempt of court, a law once limited to maintaining order in court proceedings, is now being interpreted to cover a broad range of offenses in the kind of creeping legal expansion that have reshaped other draconian laws, such as the Computer Crime Act and lese majeste, into powerful weapons against dissent.
The trend has alarmed a number of lawyers who fear the integrity of the justice system is in jeopardy.
"What's contempt of court must be interpreted very strictly," Krisadang Nutcharus, a lawyer who's defended numerous pro-democracy activists, said Tuesday. "Because the court has absolute power in this. They can send anyone to jail for six months, and the accused have no chance to challenge it."
Thammasat University law professor Piyabutr Saengkanokkul warned that an unchecked power to punish alleged violators could lead to a completely unaccountable judiciary.
"In the future, the court might dare to exercise its power without fearing anyone, because, eventually, whoever opposes or challenges the court, the court has an instrument to deal with those people," Piyabutr wrote online. "It can punish anyone in the name of the law."
Unlike in other criminal proceedings, contempt of court cases forego due process. Suspects and their attorneys cannot make arguments or present a defense. Instead, the presiding judge alone decides guilt, often within a matter of minutes.
The law is enshrined in Section 31 of the Civil Procedure Code. It bans offenses such as disobeying a judge's instructions, forging court documents or delaying delivery of court warrants. Violators face punishments ranging from getting barred from the court to six months in prison.
The law was designed to keep order in courtrooms and allow judges to take swift action against troublemakers, Krisadang said.
Suebpong Sripongkul, spokesman for Court of Justice – the agency that oversees all the courts – said the contempt law is necessary to keep order and facilitate justice in court functions.
"People should be cautious," Suebpong said. "Before they do anything [related to the court], they should seek permission from judges first. And sometimes the judges need to issue prohibitions, because some actions may affect the proceedings."
Growing Contempt
In recent weeks, contempt has been cited in an expanding array of offenses which did not involve court proceedings.
First there's Srisuwan Janya, an activist known for filing more than 1,000 transparency complaints against the authorities. He was found guilty of contempt of court Monday and subsequently fined 700,000 baht – an amount he could not afford. Srisuwan was held in custody for hours before he could manage to raise enough funds to pay the fine.
Srisuwan would not discuss the specifics but said the court might be offended by the fiery language he used in an appeal written on behalf of residents who suffered from noise pollution near Suvarnabhumi Airport.
Although defaming judges is indeed illegal, attorney Krisadang said such offenses cannot be punished under contempt of court.
"[Even if] you say the court is unfair, it's another legal offense, such as insulting law enforcement officials," Krisadang said.
Then there's Pheu Thai politician Watana Muangsook. While in court Monday for a custody hearing in his sedition case, he ended up being found guilty of contempt of court. His offense: Broadcasting via Facebook Live from inside the courtroom.
For web streaming, Watana was handed a suspended one-year jail sentence.
The recent guilty verdict for civil rights activist Jatupat Boonpattararaksa, aka Pai Dao Din, also evoked enough fear of the law to impose censorship. After Khaosod English reported remarks attributed to a presiding judge, its management ordered the article altered, citing a possible contempt case.
Unclear Boundary
Now the law is being used for crowd control. The authorities are anxious about an outpouring of support for former Prime Minister Yingluck Shinawatra when the verdict in her malfeasance trial is read Friday – a verdict many expect to not be in her favor.
On Sunday, police announced supporters – or gatherings of any kind – would not be allowed outside the court that day.
The announcement came as a surprise because Yingluck's supporters have been allowed to assemble there in large numbers for previous hearings she attended.
Court spokesman Suebpong said the ban is consistent with contempt of court because the law prohibits disruptions and loud noises. Since the current Supreme Court is housed in a temporary facility in the Government Complex in north Bangkok, he said, it can designate its own boundaries, he said.
Krisadang disagreed with that definition, saying the "court authority area" has traditionally been limited to courtrooms.
"The accusation must be related to court proceedings, and it must go through strict interpretation. But in the present time, contempt of court has been used wrongly many times, such as the photo in front of the court in Khon Kaen," Krisadang said, referring to a group of students charged for "dabbing" in support of Jatupat, though the photo was taken outside the court building.
Collateral Consequences
Contempt of court is used to prosecute those who criticize court decisions, which creates a chilling effect as people involved in cases are reticent to speak about them, especially to the media.
Suebpong, the court spokesman, said criticism is allowed as long as it's based on facts and does not defame any party involved in the proceedings. The media also cannot publish articles that can "influence" court decisions, he said.
"Newspapers that express opinions as a trial is underway in order to influence the court … with pressure from the public," Suebpong said. "The editors will be found guilty of contempt of court. They must be careful about this."
However, Piyabutr said punishing criticism of any institution is contrary to the principle of accountability.
"Since the court exercises sovereign power that belongs to the people, the people are entitled to the right to scrutinize, criticize and disagree with the court," he wrote.
Krisadang also said he and his fellow lawyers have concluded that the contempt law should be reformed. For example, he suggested, judges should be recused from contempt cases involving jail time when it involves a case they preside over.
"If the court tells you to be quiet, but you disobey, that's an urgent case that should be dealt by summoning police to take you outside," the lawyer said. "But if it's an offense that involves imprisonment, it should be decided by different judges."
Related stories:
Watana Charged for Writing About Missing Plaque
Court Vicinity Declared Off-Limits to Yingluck Supporters