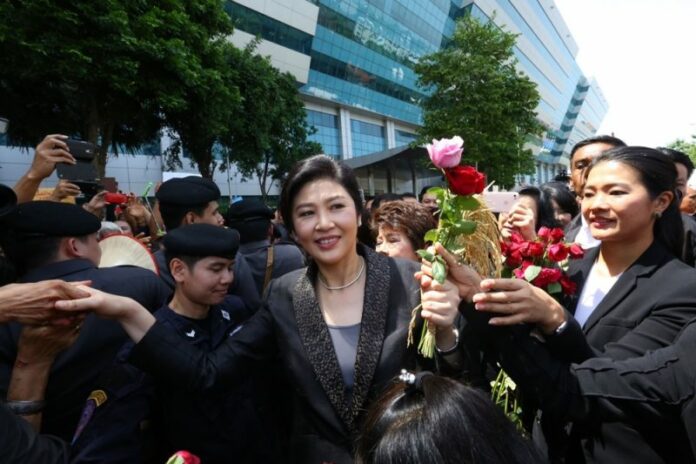 Story Pravit Rojanaphruk and Teeranai Charuvastra
BANGKOK — Former Prime Minister Yingluck Shinawatra told the Supreme Court that she is the victim of an "intricate political game" and asked the judges for justice in her closing statements Tuesday.
Eighteen months after her malfeasance trial began, Yingluck said she acted earnestly to assist farmers by introducing a rice subsidy program, did what was within her power to combat corruption in the program and was never derelict in her duties.
"I know very well that I am a victim of an intricate political game and hope that the court will afford me justice," 50-year-old Yingluck said, speaking for nearly an hour from prepared statements.
A verdict is expected Aug. 25, and Yingluck faces up to 10 years in prison if convicted. No Thai prime minister, past or present, has ever been sent to prison on a criminal matter.  
She accused Prayuth Chan-ocha, who leads the junta which ousted her government known as the National Council for Peace and Order, of trying to steer the outcome of the trial.
Read: Prayuth Says Gov't Right to Take Yingluck Assets Before Verdict
"I'd like to ask the court to kindly deliberate and judge this case in accordance with facts, legal basis and evidence entered legally, and not follow the manipulation of anyone, including the leader of the NCPO, who has people's fates and the power of the state in his hands," she said. "He earlier made prejudicial comment to the public that 'if this thing was not wrong, it would not have gone to the courts to begin with.' This is a clear indication that he is trying to lead before the court makes its ruling."
As to the specific allegations against her, that she was responsible for massive losses incurred under agricultural price-guarantees introduced by her government, Yingluck said she committed no crime.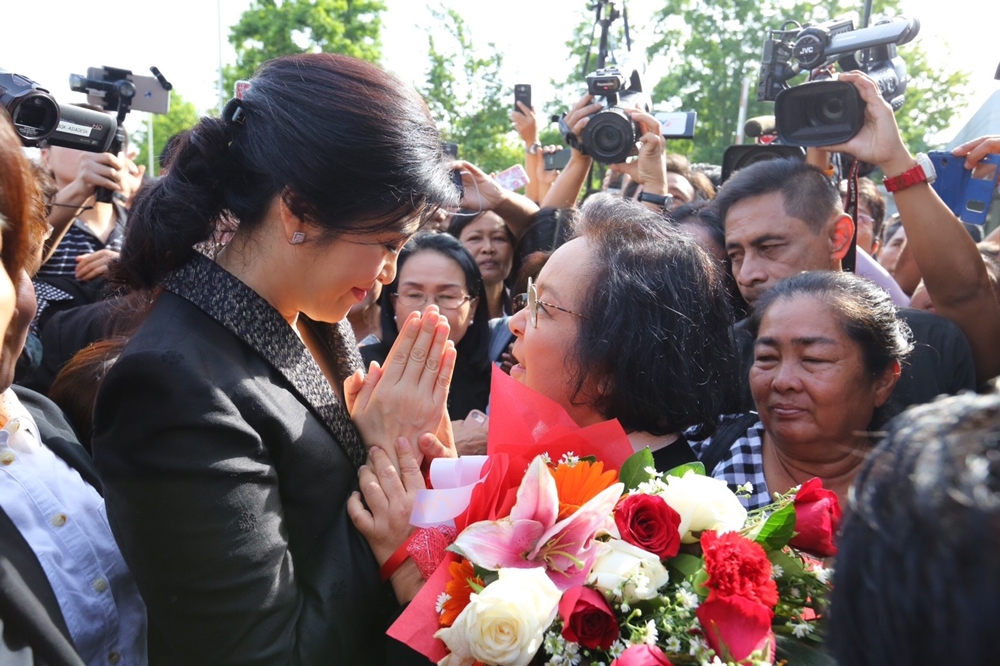 She said the program was beneficial to farmers and the general economy, and was bound to run losses.
As for her culpability in any corruption that occurred under her watch, she denied refusing to act on warnings and said she had ordered more stringent anti-graft measures for the program weeks before a no-confidence vote was staged against her on Nov. 25, 2013.
She said Prayuth Chan-ocha, the former army commander who ousted her government, understood the limits to a prime minister's power, which was why he set those aside upon installing himself as prime minister.
"Even [Prayuth] understands this limitation. That's why he invested himself with absolute power under Article 44, to issue orders and run the administration in the way that an elected government like mine could never do," she said, referring to the relevant article in the junta's interim constitution. Prayuth retains absolute power under the new constitution adopted earlier this year.
Beneficial or Destructive?
The trial has dominated political spheres since March 2015, when the Supreme Court's Division for Holders of Political Office accepted the case against Yingluck.
At the heart of the trial is the rice subsidy, a key populist policy undertaken by Yingluck's administration after she came to power in August 2011.  

Under the policy, the government bought rice from farmers at the premium price of up to 20,000 baht per ton, with the promise that it would resell it without affecting the market.
"The government will adopt a system of mortgaging agriculture products as a way to build income stability for farmers," the newly elected Yingluck told the parliament on Aug. 23, 2011. "We will begin with the mortgage of unhusked white rice and jasmine rice."
But the global rice market later plunged, partly due to other rice-producing nations stepping in to make up for reduced Thai output, and the government found it increasingly difficult to resell the rice stocks. Critics of the program said the state was forced to sell the rice at low prices, while some of the unsold stocks rotted in their warehouses.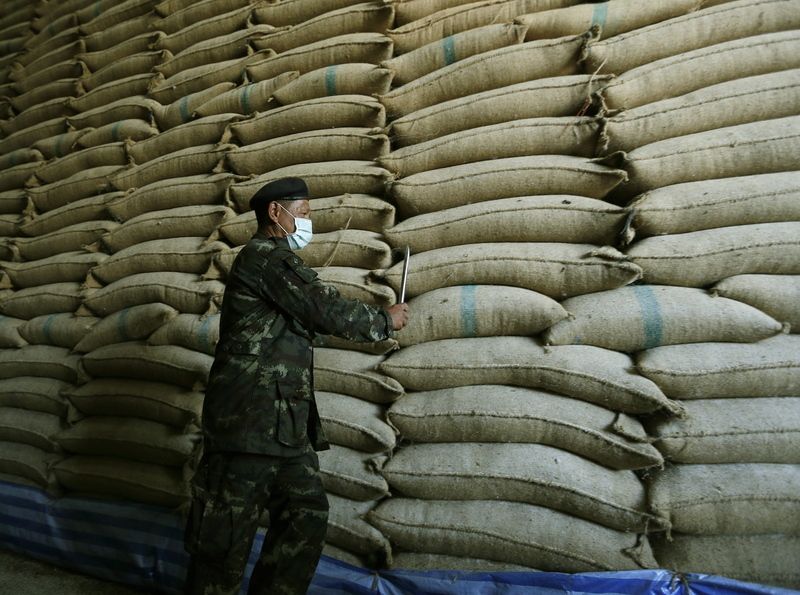 Opposition politicians also accuse Yingluck's administration of corruption. One allegation charged that the government claimed to have sold rice to the Chinese government whereas the true beneficiary was Thai businesses with ties to the ruling Pheu Thai Party.
The minister in charge of the deal, Boonsong Teriyapirom, is also being tried on charge of fraud. His verdict is due the same day as Yingluck's.
At today's closing statement to the court, Yingluck said her case was about future governments' ability to improve the lives of rural farmers, many of whom live in poverty.
"So that their children will be able to afford education and prosperity. Something I am most proud of in my life is the fact I had the opportunity to push for the program on behalf of the rice farmers," she said in court. "I will continue to persevere in hope that future governments will be able to devise public policies that benefit people, that will free them from debt."
Multi-Front Battle
The National Anti-Corruption Commission said in 2014 it found evidence of graft a year after launching its investigation. A guilty verdict by the commission resulted in the negligence count being filed against Yingluck.
Her trial took off in May 2016 under the regime of junta chairman Prayuth Chan-ocha, who has openly expressed contempt for Yingluck's brother, former premier Thaksin Shinawatra, and sought to uproot the legacy of their political clan.
While the junta maintains it never has never interfered with the court case, Yingluck's supporters say she hasn't received a fair trial. The court rejected many witnesses the defense sought to call. Yingluck was declared a flight risk and ordered to seek court permission to leave the country.
Her team of lawyers has repeatedly filed motions to delay or dismiss the trial, all of which were rejected.
All told, Yingluck made 26 appearances in court to defend herself. Each appearance, including today's closing statement, saw large crowds of supporters presenting roses and cheering her name.
"I am a daughter of farmers. I know how difficult it is for them without this policy," said 48-year-old Mulika Phodaeng, who was among more than 1,000 supporters in front of the court Tuesday. "This is totally unjust."
"If she has to go to jail. I will sleep in front of the jail. I will always be with her. I know she is likely to be convicted," said another supporter, Pensri Charoennenraksa, 54. "But we know, the court also knows that she's innocent. How can she be guilty for helping farmers?"
Senior politicians with Pheu Thai, the party of Yingluck and her government, also showed up at the court, including Nattawut Saikua, Kittirat Na Ranong and Watana Muangsook. Three police companies guarded the scene.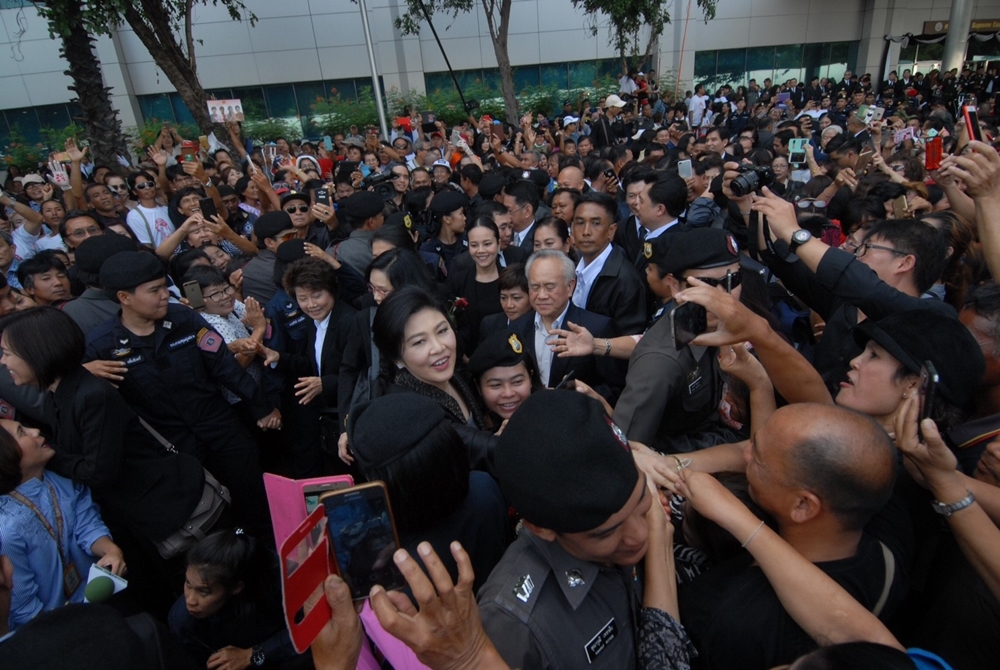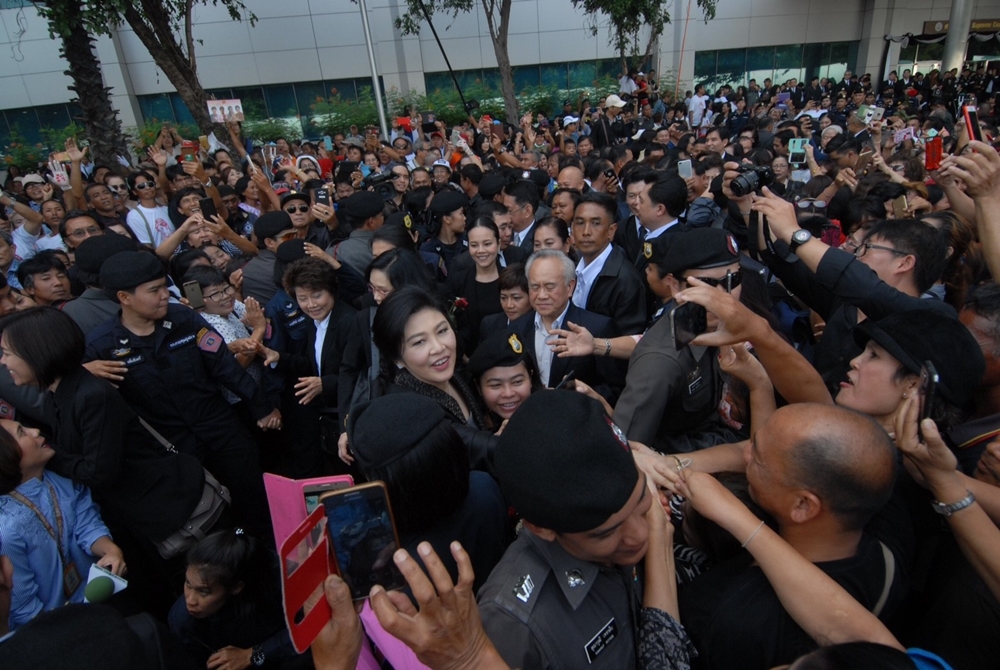 Citing the need to keep public order, junta chairman Prayuth Chan-ocha has urged Yingluck's supporters to stay home on the day of the verdict. He also warned that any attempt to mobilize a crowd may result in legal action.
"You can like or love anyone, but I don't see why you should cause troubles for others," Prayuth said July 24. "Whoever mobilizes the masses to come out, they must know it violates all kinds of laws."
Tension between Yingluck's camp and the regime rose sharply last week when the government seized 12 of her bank accounts before the verdict is reached. Officials said they are complying with a parallel regime order that she personally compensate the state for the losses of her government's program.
In court Tuesday, she decried that decision, saying it went against international judicial norms.
"The current administration uses its power as if they are the judiciary themselves," she said.
Yingluck and her aides had asked the regime to wait for a verdict before moving against her, but Prayuth said the former premier must be held accountable for her government's damages, and the seizure of her assets was unrelated to the ongoing trial.
"I ask you not to mix these two stories up to instigate the people," Prayuth told reporters Thursday. "Or to distort that we mistreated her by confiscating her assets, because it's a different story."
Additional reporting Sasiwan Mokkhasen
For the full closing statement by Yingluck, click HERE.