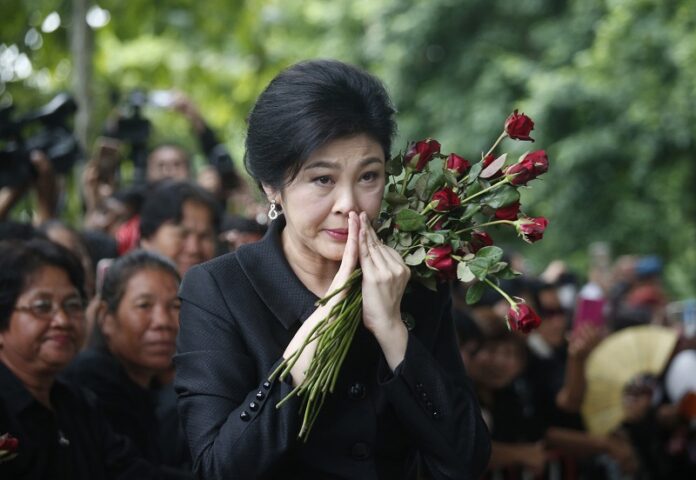 BANGKOK — Prime Minister Prayuth Chan-ocha said Thursday his government was right to confiscate the bank accounts of former Prime Minister Yingluck Shinawatra as it was a separate matter than her malfeasance trial, which has yet to render a verdict.
Prayuth said the order to fine Yingluck 35.7 billion baht was issued because the former prime minister must be held accountable for losses of an agricultural subsidy enacted by her government. He said it was irrelevant that her guilt has not yet been established by the court, which is expected to give its decision on Aug. 25.
"I ask you not to mix these two stories up to instigate the people," Prayuth told reporters Thursday. "Or to distort that we mistreated her by confiscating her assets, because it's a different story."
Read: Yingluck Attorney Says Asset Seizure Should Wait as PM Threatens Supporters
Yingluck is due to give closing statements Tuesday in her trial over allegations she ignored the massive corruption in her administration's rice subsidy program. The Supreme Court's Criminal Division for Person [sic] Holding Political Positions will then hand out the verdict on Aug. 25.
The Finance Ministry already ordered her in October to personally compensate the state for the 35.7 billion baht. The order remains in effect for 10 years before expiring.
A day before he would be contradicted by his own deputy, Prayuth on Wednesday apparently misunderstood what was happening. He said the accounts were yet been confiscated, as the the authorities were only preparing a list of her bank accounts in case the court finds her guilty.
"To confiscate is not today's issue but preparation by the authorities," he said. "She is not guilty until the court makes a ruling … If she is acquitted, then it's end. We can't confiscate anything."
In his comments this morning he acknowledged the seizure had been completed but blamed reporters for confusing different issues.
Meanwhile, the agency responsible for enforcing the will of the courts said Monday it began the process of seizing 12 bank accounts to satisfy the order. The ousted prime minister said early Wednesday morning that she has already lost her accounts and the money held in them.
"It is not true what NCPO leader said, that seizure of my assets was only in preparation," Yingluck tweeted Wednesday. "My bank accounts have already been confiscated."
It is not true what NCPO leader said that seizure of my asset is only in preparation, my bank accounts have already been confiscated. https://t.co/FAIPWb7oe5

— Yingluck Shinawatra (@PouYingluck) July 26, 2017
Deputy Prime Minister Wissanu Krea-ngam said Thursday that authorities only froze her accounts – he numbered them at 16 – but have yet transfer her money to the state.
He said money in the amount of "hundreds of thousands" of baht was withdrawn from five of her frozen accounts but not yet given to the treasury. He said the other 11 accounts remain untouched.
Wissanu said 37 properties belong to Yingluck, the department already coordinated with the Lands Department to prevent her from selling or transferring it. The legal rights remain with Yingluck, for now.
Asked why the authorities appeared to enforce a nearly year-old order at the end of her trial, with a verdict nearly due, Wissanu said the concern was irrelevant. He said agents tasked with carrying out the order had just completed their discovery of her assets and needed to take immediate action or risk being guilty of negligence.
Saying the seizure was unprecedented, Yingluck's lawyer Noppadol Laothong filed a motion with the Administrative Court.
In response, court spokesman Terdphong Kongchan said the Finance Ministry and related agencies were ordered Monday to submit an explanation within 15 days for why it was necessary to seize Yingluck's assets.
Related stories:
Fates of 2 Former PMs Hinge on August Verdicts
Yingluck Attorney Says Asset Seizure Should Wait as PM Threatens Supporters
Everything You Were Afraid to Ask About Thai Rice Subsidies
Fining Yingluck for Rice Subsidy in 'Grey Area,' Critic of Policy Says
Pheu Thai Says 35.7B Fine Denies Yingluck Due Process
Yingluck 'Confused' by Signals on Rice Subsidy
Yingluck Rice Subsidy Trial to Stretch Through End of Next Year