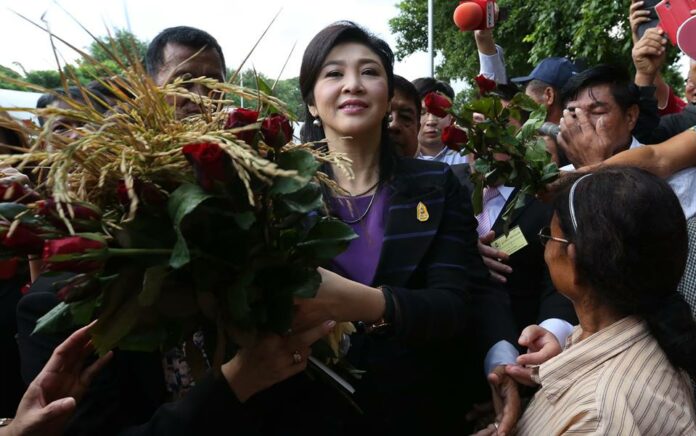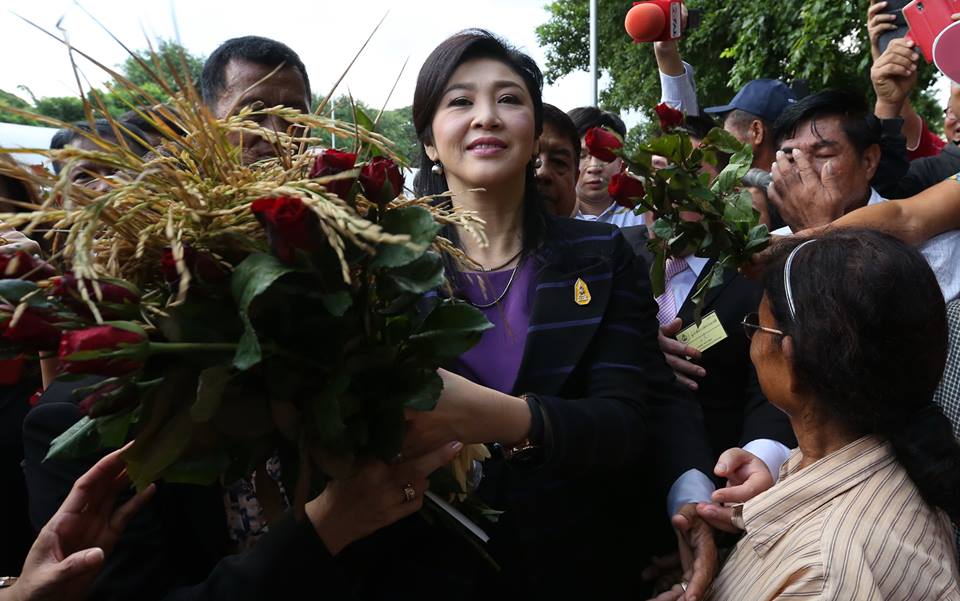 BANGKOK — The military government's decision to fine Yingluck Shinawatra for 35 billion baht over her rice subsidy program lacks clear legal grounding, a prominent critic of the former prime minister's policy said Monday.
Economist Viroj NaRanong said in an interview the punishment, under which she must pay an amount equal to USD$1 billion from her own pocket for the program's losses, appeared disproportional.
"If there is clear evidence of who in the government defrauded the rice mortgage policy, action must be taken," said Viroj, an economist at an independent policy think tank and opponent of the rice subsidy. "But the word being used here is negligence, so it's starting to enter a grey area."
In its Friday order, the government indicated it was not seeking to fine the former prime minister, whose government was toppled in 2014, on the grounds of corruption but on her failure to acknowledge and stop widespread corruption in the program.
Yingluck's party, Pheu Thai, has decried the fine as politically motivated.
Findings by the regime that replaced Yingluck's elected government ruled the agricultural subsidy, under which the state paid farmers premium prices for their rice, cost about 178 billion baht due to corruption and mismanagement. The former leader had to take responsibility by paying 20 percent of the damages, or 35 billion baht, Deputy Prime Minister Wissanu Krea-ngam said last month.
But fining Yingluck on the grounds of negligence would require authorities to first prove she conspired with the people engaged in the corruption, said Viroj, a member of Thailand Development Research Institute who's published articles about the rice policy .
"If there was no conspiracy, it should end with her taking responsibility politically, not legally," the economist said.
Yingluck said upon being notified Friday that she would use all legal means to overturn the decision. The leader of her Pheu Thai Party said Sunday the military regime was applying a new standard on Yingluck.
"In the past, there were many public policies that used state funds to solve problems, but no former prime minister had to take responsibility for them, even in clear cases of losses of state funds," Pheu Thai Secretary General Phumtham Wechayachai wrote on Facebook. "What's also important: Does a government from a coup have legitimacy to demand accountability from the government that it seized power from?"
Apart from the fine, Yingluck is also being tried on charges of negligence. She faces up to 10 years in jail if convicted.
Viroj said it's rare for the government to fine senior officials for losses of state funds because of their negligence.
In fact, he said he could name only one case: a 2005 court order that former Bank of Thailand president Rerngchai Marakanond pay 180 billion baht for his decision to float the baht in 1997, which contributed to the Asian financial crisis and collapse of Thailand's financial sector.
Earlier this month, on Oct. 5, the Supreme Court acquitted Rerngchai after a 15-year legal battle.
In an interview Monday, Viroj maintained his belief that Yingluck's rice policy was destructive to the economy and rife with corruption, but he said authorities need a watertight case of legal evidence to prove her intent before punishing her for negligence.
"Some people said the government was warned many times already that it was a bad idea, but they neglected to hear the warnings. But I don't think that's sufficient grounds [for the charge of conspiracy]," Viroj said. "Suppose they believed out of their honest intentions it was a good idea? I still criticize them. But if someone were to hold them legally responsible, I think it's not fair."
He compared it to the 2015 indictment of commerce minister Boonsong Teriyapirom for damages stemming from the same policy; in Boonsong's case, the indictment was for corruption, which was more clear-cut than an elusive conviction for negligence.
Yingluck's next court hearing is set for Nov. 4.
Correction: An earlier version of this story incorrectly quoted Viroj as saying there was insufficient cause for the charge of negligence, when in fact he meant a count of conspiracy.