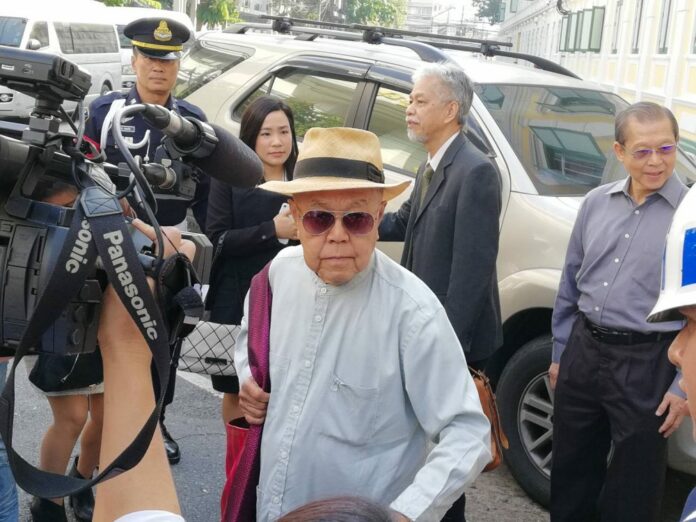 BANGKOK — All charges were dropped Wednesday morning against a renowned social critic and historian who questioned whether an ancient story of a Thai king's elephant battle was apocryphal.
Surak Sivarak walked out of a military courtroom just before 10am after charges of royal defamation and computer crimes were dropped three years after he publicly suggested a story involving 17th century King Naresuan didn't actually happen.
Read: 112 Case Moves Forward Against Historian For Doubting 16th Century 'Elephant Duel'
The 84-year-old man said the military tribunal dropped the charge without explanation.
Sulak said he credited the mercy of King Rama X for the case being dropped.
Maj. Gen. Choedchai Angsusingha, chief military prosecutor, said the case lacked sufficient witnesses to prosecute Sulak for defaming the monarchy, a crime known as lese majeste, and violating the Computer Crime Act for allegedly putting false information into a computer system.
The case stems from comments Sulak made three years ago on Oct. 5, 2014, during a history discussion at Thammasat University. He questioned the historical accuracy of a story in which King Naresuan routed a Burmese army single-handedly by winning an elephant duel. The story at the time was the subject of nationalist epic period films then being promoted by the newly installed junta.
Sulak, who identifies as a royalist, previously noted that the lese majeste law only punishes insult of current royalty – the king, queen, heir apparent and regent – rather than those of the past.
A critic of the lese majeste law, he has been charged with it four times previously. The charges have been dropped each time.
Related stories:
112 Case Moves Forward Against Historian For Doubting 16th Century 'Elephant Duel'