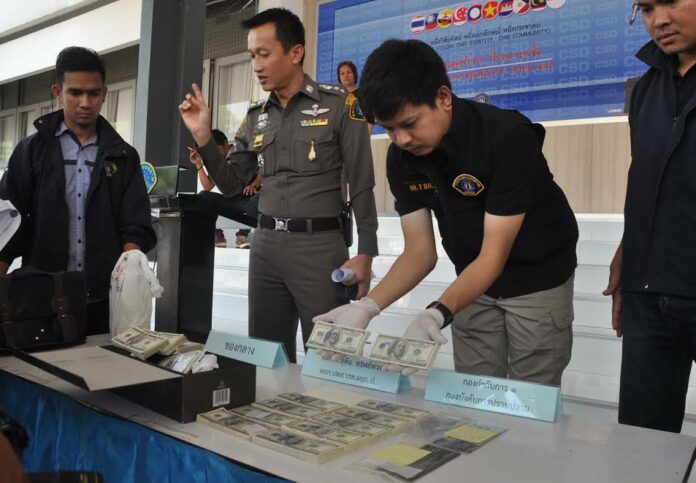 BANGKOK — Thai police arrested five alleged counterfeiters in a joint operation with the U.S. Secret Service, seizing USD$154,400 worth of forged American banknotes Wednesday in Bangkok's Bang Kapi district.
Police conducted a sting operation that led to the arrest of four Thais and one foreign national, along with the seizure of counterfeiting materials and equipment they suspect may be linked to other such operations in the kingdom.
"We got reports of a large amount of counterfeit dollars, so we worked together with the U.S. Secret Service to find them, said Maj. Nattapol Rattanamongkolsak from the Crime Suppression Division.
Though the U.S. Secret Service is mostly known for protecting American heads of state and their families, it is also tasked with investigating counterfeiting.
Those arrested Wednesday morning were Tatchanan Kuns, 48, Panisra Techaisradech, 47, Kittipong Yanawanthanapong, 43, Natchapattarapong Yaempradit, 55, and Jean Jules Tenker, 45 of Cameroon. Officers also seized 1,534 counterfeit $100 bills, forged documents, mobile phones and chemicals used for producing the fake cash.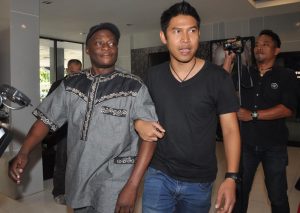 After the counterfeit ring was traced to Bang Kapi, police placed an order for 10,000 $100 dollar bills at 1,100 baht each. They set up the buy to go down at a Makro store in the same area.
At the meetup, Maj. Nattapol said that Tatchanan and Tenker brought the counterfeit notes in liquor boxes, at which point they were arrested. Police then arrested Panisra and Kittipong at the restaurant of a nearby hotel who were waiting for the deal to be completed.
The four arrested reportedly told police they acquired the bills from Natchapattarapong, who they said is known in the counterfeiting world as "Ajarn Toang" because he is a university professor in the northeast.
Nattapol said police then asked Panisra to order more bills from Natchapattarapong, who was arrested when he came to the hotel to deliver them Wednesday night. Police found the counterfeiting equipment in his apartment in the Khlong Chan area.
Police said the suspects confessed to counterfeiting U.S. dollars for many years. Natchapattarapong was their link to international counterfeiting gangs due to his English-language skills.
All four will be charged with counterfeiting.
"We believe the ajarn still has links to other counterfeiting rings in the country," Nattapol said Thursday. "We will continue investigating."