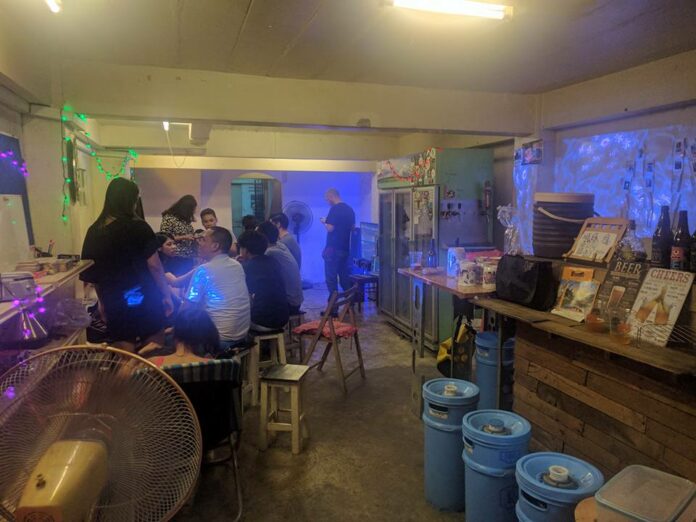 NONTHABURI — Taopiphop Limjittrakorn had a simple dream of selling his home-brewed beer from his three-story shophouse in northern metro Bangkok.
The only problem is brewing and selling home-made beer is illegal, and on Monday 28-year-old Taopiphop was preparing for a court appearance scheduled for tomorrow.
Taopiphop was arrested by police and tax officers on Saturday, the opening night of his home brewing business in Nonthaburi city's Bang Krasor area.
Read: Thai Craft Beer's New Strategy: Keep Brewing Until Law Catches Up
Police said they learned about his illegal operation from people who had seen online advertisements for his Taopiphop Bar Project.
When officers arrived, they said the shophouse door was closed. Officers entered through a back door where found Taopiphop selling his self-made bottles for 150 baht to customers.
Police also found brewing materials on the second and third floors including boiling tanks and fermentation tanks for malt, hops and yeast, according to Col. Kittisak Tiengkamol of Rattanathibet police.
The beer-making equipment was confiscated and Taopiphop, a law graduate, reportedly confessed to charges of producing alcoholic drinks without a license and possessing the equipment to do so. He contested two other charges: possession and sale of alcoholic drinks without excise tax stamps.
Update: Court Fines Man Arrested for Operating Home Microbrew
Taopiphop reportedly confessed to the first two charges but contested the other two. Taopiphop could not be reached for comment.
Under the 1950 Liquor Act, beer can only be made in a factory or brewpub and brewing equipment must be approved by officials.
If convicted, Taopiphop faces fines up to 5,000 baht and, under changes to the law last year, six months in jail.
Correction: An earlier version of this story mistakenly indicated that Taopiphop was jailed Saturday. While he was arrested, he remained free until his appearance in court Tuesday.
Related stories:
Thai Craft Beer's New Strategy: Keep Brewing Until Law Catches Up
Kill The Boy and Let the Beer Be Born
Brewing Discontent: Frothy Passions Erupt When Thai Craft Beer Goes Big