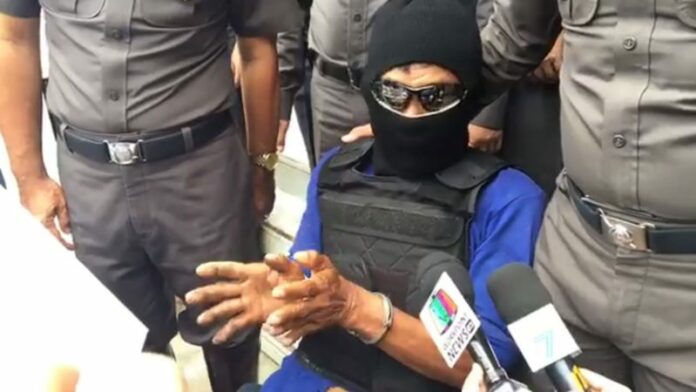 RAYONG — A man suspected of abducting and murdering an 11-year-old girl reportedly confessed Thursday afternoon to police.
Wichai Chotisena, 57, said he picked the girl up from her school Tuesday, sexually assaulted her and then choked her to death when she tried to escape at a news conference held at the Pluak Daeng district police station in Rayong province.
"When she said, 'Uncle jaa,' I got turned on," Wichai said. "I didn't rape her, but stuck my finger inside."
Read: Rayong Man Suspected of Abducting, Killing Girl, 11
Wichai has been charged with murder. Police said they are still weighing whether to charge him with rape or indecency. According to legal precedent, sexual assault can only prosecuted as attempted rape if there is strong evidence of intended penetration by tongue or genitals.
A school guard helped lead police to arrest him Wednesday before the girl's body was found later that night. He had initially denied killing the girl, saying she had fallen from his motorcycle.
According to a reporter on the scene, police said they won Wichai's confession by playing "Crying Mother Earth," a traditional, sad song customarily played at funerals.
Wichai said he was drunk Tuesday when he picked up the girl from her school on his motorcycle. After he stopped his motorcycle and assaulted her, Wichai said she screamed for help and told him she was in pain and tried to flee. He said the girl only ran three meters when he caught her and strangled her.
"I didn't mean to choke her to death," Wichai said. "I was afraid someone would hear."
Wichai said he then undressed the girl for fear someone would recognize her school uniform before and dumped her body behind a construction site. He put her school uniform in her backpack and dumped it nearby.
Wichai said the girl's father was a friend, and he often took her out to eat sweets.
Live ตร.แถลงผลการจับกุม นายวิชัย โชติเสนา อายุ 58 ปี พร้อม หลักฐานสำคัญ มัดตัวคนร้ายฆ่าข่มขืนดญ.วัย 11 ขวบหลังพบเป็นศพเปลือย #สดจากระยอง #ปลวกแดง

โพสต์โดย Khaosod – ข่าวสด บน 22 มิถุนายน 2017
Related stories:
Suspected Predator Stabs Woman at Bus Stop, Charged With 'Indecency'