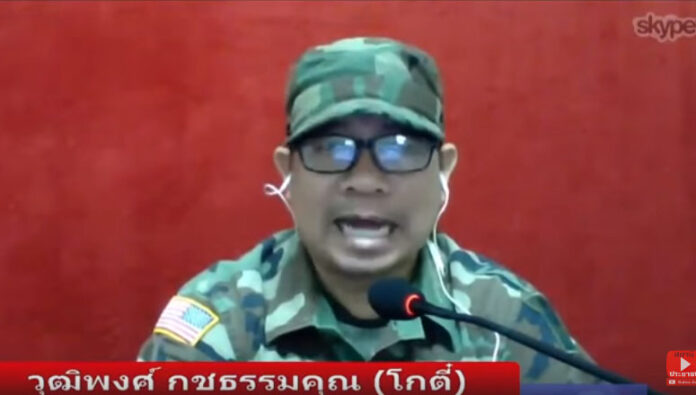 BANGKOK — Deputy junta leader Gen. Prawit Wongsuwan on Monday denied having any knowledge about the possible abduction or forced disappearance of a well-known anti-monarchy fugitive who had been living in Laos.
Word that Wutthipong "Ko Tee" Kochathmmakun had been abducted began spreading early Monday morning by another exile, Los Angeles-based journalist Jom Petchpradab. Jom wrote that Ko Tee was abducted by 10 armed Thai men in all black and wearing hoods Saturday night in Laos and likely taken back into Thailand.
Read: Redshirt Firebrand 'Ko Tee' Says He's Fled Laos
Jom said his account was based on that of two men who were with Ko Tee at the time but either were not taken or managed to get free.
He quoted the two unidentified friends, who claimed their heads were covered with cloth while another piece of cloth was stuffed into the mouths of all three as they were dragged into a residence.
"Those who arrested us spoke Thai," Jom wrote, quoting the men. "They used an electric shock device and applied it to our necks. Each of us was then assaulted and threatened to not make any noise, not to cry out. At the same time, [the source] said he heard Ko Tee say, 'Ouch. Can't breath,' and then Ko Tee went quiet."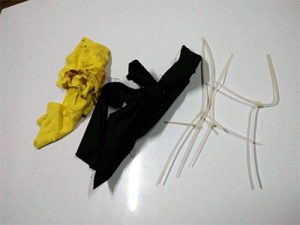 Jom also posted photos of what were described as the cloth and plastic wrist restraints used in the abduction.
None of his claims could be independently verified, but word started traveling through the dissident community Monday.
Police spokesman Col. Krissana Pattanacharoen said there has been no report, but police would try to verify the matter. He added that there is no concrete evidence to conclude Ko Tee was forcibly disappeared.
Ko Tee, 48, has been vocal in calling for changing Thailand from constitutional monarchy to a federal state. He faced charges of defaming the royal family when he fled the country in the aftermath of the May 2014 coup. Earlier this year, he was accused of a plot to assassinate junta leadership, accusations he denies.
Two exiled anti-monarchists based in Laos and another unspecified neighboring country said Monday they were not sure about the news but wouldn't be surprised if enforced disappearance really took place.
Nithiwat Wannasiri, a fellow dissident exile living in Laos, said he was unsure whether Ko Tee had been abducted but said no one has been able to contact him since Saturday.
He added that he wouldn't be surprised because a lesser-known dissident, Ittipon Sukpaen, aka DJ Sunho, disappeared from Laos in June 2016, and no one has seen him since.
"I believe Sunho is dead. I can't conclude if Ko Tee has been forced to disappear, however," Nithiwat said from Laos.
An attorney representing Ittipon's family said in July 2016 they also believed he was dead.
A member of the Thai dissident community living in Laos said they were warned by Laotian authorities last week that they were "being hunted down" by those from the other side of the border, a reference to Thai authorities. Many temporarily moved to safer locations, the source said, requesting anonymity for fear of his safety.
Another anti-monarchy dissident living in an unspecified neighboring country, who also asked not to be named due to safety concerns, said that if Ko Tee has been forcibly disappeared by the Thai regime, no one will claim responsibility.
"It is a possibility. We saw what happened to Sunho," the source said. "They are definitely capable of doing this. The geography makes it possible. [Thais and their neighbors] look alike and some speak the same language."
Related stories:
Assassination? Extradition? Ko Tee Plot is in the Eye of the Beholder
Ko Tee Denies Bombing Hospital, Would Rather Bomb Govt House