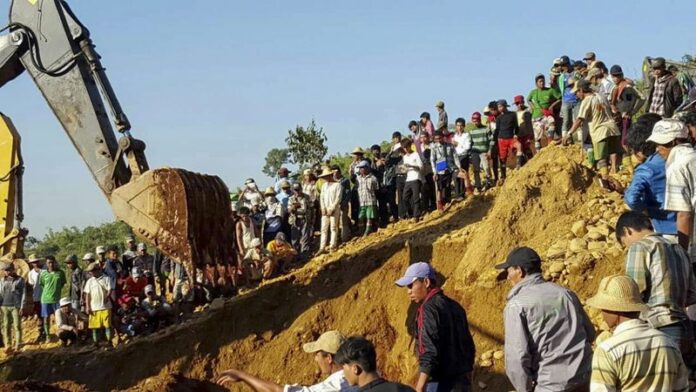 YANGON — The death toll reached 110 after a landslide hit near a jade mine in northern Myanmar, with up to another 100 still missing, officials said Monday.
"We have recovered about 110 bodies, but according to local people there are still more than 100 people buried," the administrator of Hpakant town, Tint Swe Myint, told DPA by phone.
There was no precise record of how many people were in the area, he said. "Most of them are migrant people searching for small gemstones in the debris left by mining companies."
The landslide took place on Saturday near jade and gold mines, when a slag heap collapsed following rains in Hpakant, 350 kilometers north of Mandalay, in Kachin State.
Landslides are common in Hpakant, where 90 percent of the world's jade is mined.
"People were sleeping at the time," Tint Swe Myint said Sunday. That's why many people were buried." About 50 houses were also destroyed, he said.
People search for miners killed Sunday by a landslide atthe Hpa Kant jade mining area in Kachin State, northern Myanmar. Photo: EPA / Zaw Moe Htet
In late March, at least a dozen people were killed in a landslide near other jade mines in the same area.
"We should do something for these people," he said Monday. "Otherwise such accidents will be inevitable. Their situation is very precarious."
Authorities were working on tighter regulations, such as not allowing people near the unstable piles of mining debris, he said.
Story: DPA