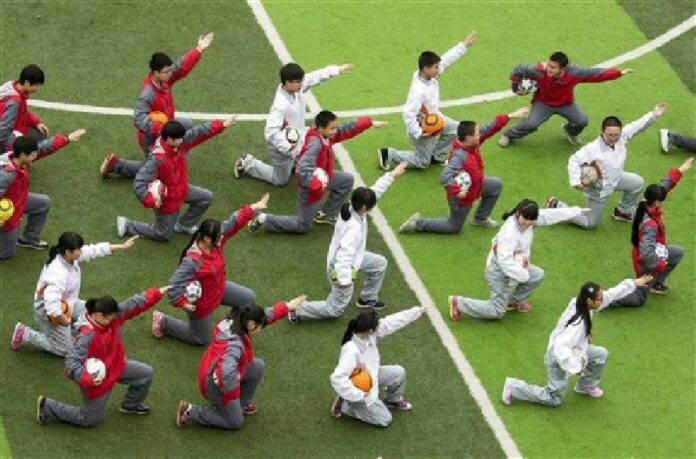 BEIJING — Seeking to close a glaring gap in its international sporting prowess, China has announced an ambitious football development plan that envisions 50 million players joining in the game by the end of the decade and the transformation of the country into a "first-rate major footballing power" by the middle of the century.
To achieve those goals, China will put into service 70,000 football pitches, including those newly built and others refurbished, according to a lengthy document released late Monday by the Chinese Football Association.
The initiative especially targets long-neglected youth programs, with more than 30 million primary and secondary schools to play regularly, and the training of 10,000 coaches. It would also more than double the number of specialized academies to 20,000.
The plan is to be rolled out in three stages, with the short term goals set for 2020, midterm for 2030 and long-term for 2050. No figures were given on how much the government plans to spend on the project.
The aim, the document says, is to "strive to realize the goal of becoming a first-rate major footballing power, realize the all-around development of Chinese football, fulfill the football dream of the sons and daughters of China, and fulfill our obligations to world football."
Despite its success in other sports at the Olympics and other global competitions, China has been a perennial underperformer in international football. Its men's team has qualified for only one World Cup finals competition, in 2002, and is given poor odds of making it to Russia in 2018.
A recent USD$300 million (10.5 billion baht) splurge to bring big-name foreign talent to the Chinese Premier League has raised the level of play among top-flight domestic clubs. It's far from clear though, whether their skills will rub-off on local talent. Of the 16 goals scored in the league's opening round, not one could be attributed to a homegrown Chinese player and the influx of overseas goal-scoring talent could further reduce local players' chances to shine.
In this March 18, 2015 file photo, students take part in soccer class at a middle school in Hangzhou in east China's Zhejiang province. Photo: Associated Press
Despite that, President Xi Jinping has made boosting Chinese football's fortunes a top sporting priority, ordering the cabinet to help guide the plan announced Monday and demanding results.
As befits a document produced by a Communist Party-led government accustomed to dictating top-down solutions, the plan comes laden with political jargon and patriotic exhortations.
Football "is an important vessel of the national spirit. Football has an important education function that benefits the propagation of socialist core values," the document said.
Despite the government's encouragement, analysts questioned whether parents would be willing to allow what is often their only child to spend more time on sports programs that take time away from their studies. While football is hugely popular in China, participation in the sport is not as deeply embedded in the culture as in European nations, they said.
"It is very hard to buy such success in a team sport, not only football, because such sports are deeply anchored in popular culture and have everything to do with little kids playing them from when they start to walk," wrote Andrei Markovits, a professor of comparative politics at the University of Michigan and author of "Gaming the World: How Sports Are Reshaping Global Politics and Culture."
"In other words, one cannot 'plan' these things from above like one can individual sports," Markovits wrote in a comment on the Chinese football plan.
Story: Christopher Bodeen / Associated Press
Related stories:
Thailand Edges Closer to Qualifying for FIFA 2018 World Cup
Ex-Top Cop Appoints Top Cop to Run Premier League
Worawi Influence Wanes as Former Police Chief Elected Football President