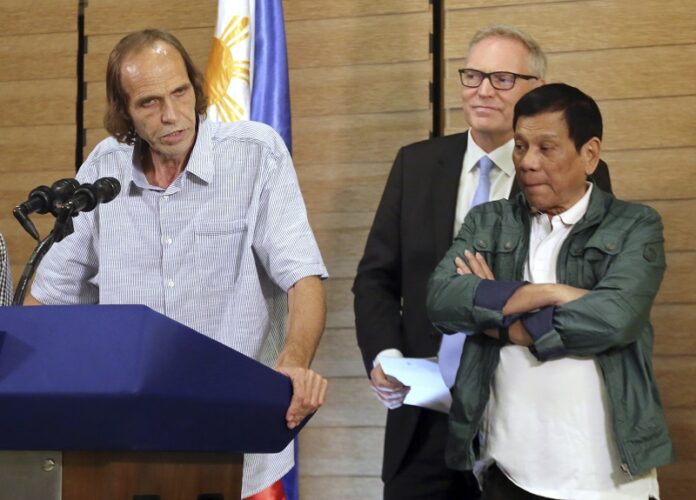 MANILA — Philippine President Rodrigo Duterte will discuss possible joint military and police operations with Malaysia to quell Abu Sayyaf militant kidnappings of sailors along the countries' sea border, saying that the brazen attacks have paralyzed trade and commerce.
Addressing the "deteriorating peace and order" in those waters will top the agenda when Duterte meets Malaysian Prime Minister Najib Razak and other top officials in Malaysia next week, Duterte told reporters late Tuesday.
Duterte said the attacks embarrassed him because the Abu Sayyaf perpetrators are based in the southern Philippine island of Jolo, an impoverished, jungle-clad region where the militants hold their hostages for ransom.
"There is a need for us, the three countries Malaysia, Philippines and Indonesia, to talk about this seriously and to put a stop because it has somehow paralyzed the trade and commerce in that area," Duterte said.
He said his talks will cover border control, border crossing, "and, maybe, joint military and police operations."
During a recent visit to Indonesia, Duterte said he discussed possible security strategies with President Joko "Jokowi" Widodo and the Indonesia leader was "OK with everything." Duterte did not specify the security steps.
Despite initial talks by the three countries about ratcheting up security, Abu Sayyaf gunmen and allied militants — part of a wider Muslim rebellion that has been raging in the predominantly Roman Catholic nation for decades — have continued attacks at sea this year, kidnapping Malaysian and Indonesian crewmen of slow-moving tugboats mostly pulling coal barges.
The security talks are complicated and tricky because the Philippines and Malaysia have had territorial issues and questions have arisen, for example, how far Malaysian authorities chasing fleeing militants can go as they approach Philippine territory. In initial talks, the countries have considered establishing a more secure sea lane for commercial vessels as well as coordinated law enforcement actions, including sea and air patrols.
Indonesia has restricted coal shipments to the Philippines because of the danger. Although most of the vessels attacked were tugboats, which are easy to board, the militants attacked an ocean-going South Korean cargo ship for the first time about two weeks ago off southern Tawi Tawi province, near Sulu, abducting its South Korean skipper and a Filipino crewman.
Without any known foreign source of funds, the Abu Sayyaf has survived through the years mainly from ransom kidnappings. A Philippine threat assessment report seen by The Associated Press showed that the militants pocketed at least $7.3 million from six ransom kidnappings involving 21 people in the first six months of the year.
The report said the lucrative payoffs enabled the group to procure firearms and ammunition.
Duterte, who took office in June, has ordered the military to destroy the Abu Sayyaf, while pursuing talks with two larger Muslim rebel groups.
The Philippine military said Tuesday it has killed 70 Abu Sayyaf militants and captured 32 others in an offensive that began in July.
Story: Jim Gomez